Preschools run by firms need strict supervision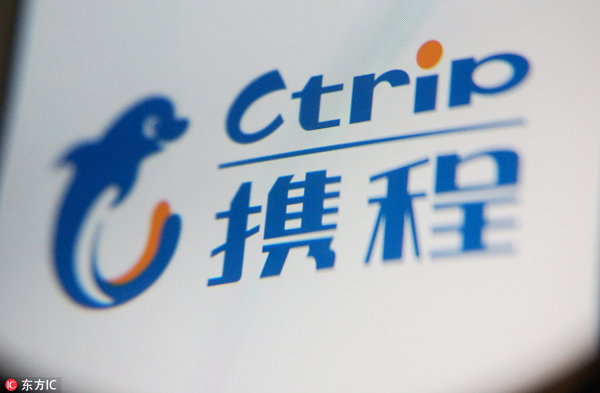 View of the logo of Chinese online travel agency Ctrip in Shenzhen city, South China's Guangdong province, July 5, 2016. [Photo/IC]
A video of a teacher throwing a girl's bag away in a kindergarten classroom and forcing kids to swallow mustard went viral on Tuesday. The incident occurred at a day-care center that domestic travel agency Ctrip established for the children of its staff in Shanghai. The teacher has been detained and police are investigating the case. Two experts share their views on the issue with China Daily's Zhang Zhouxiang and Pan Yixuan. Excerpts follow:
Kindergartens need overall improvement
According to official data, last year the number of children in kindergartens across China was about 44 million. About 4.9 million teachers are needed to run these kindergartens smoothly, but their actual number was about 2.5 million, or just over half of those needed.
As a result, many kindergartens lower their requirements for job applicants and are rather lax in checking their educational qualifications and teaching skills. While it is common for kindergarten teachers to have masters' degrees in developed countries, a majority of those in China have only "associate" degrees.
Lower education levels do not necessarily mean a person is more prone to violence, but they reflect a lower qualification threshold to join the profession. So the general quality of preschool teachers in China is much lower than that of primary and secondary school teachers.
Yet for long the problem of partly qualified preschool teachers has not received ample attention, because some people think preschool education is less important than school education. This is wrong. Preschool education is equally important, because it helps build a child's character and has a big influence on a person's values.
Worse, many local officials tend to accord greater priority to high-school education compared with preschool education, because the former results in higher college entrance rates while the benefits of preschool education are not evident until decades later. Therefore, kindergartens that get less funding and other support can only provide low salaries for teachers, which makes it harder to recruit qualified teachers. That has become a vicious circle.
In order to prevent mistreatment of children in kindergartens, it is necessary to improve preschool education as a whole, which in turn requires more attention and support from the entire society.
Xiong Bingqi, deputy director of the 21st Century Education Research Institute
Increase investments to train qualified teachers
Increasingly more families are attaching greater importance to preschool education, yet the preschool education sector is far from being ready to meet the demand. According to official data, the preschool enrollment rate was about 70.5 percent in 2014, which means that about 30 percent of the children still don't go to a kindergarten.
In particular, there are too few public-sponsored kindergartens. Earlier this month, Yang Rui, a local legislator from Shenzhen, South China's Guangdong province, said that only about 4 percent of the 1,759 kindergartens in the city are public-sponsored, which is much lower than the legal requirement of 30 percent.
That's why many private enterprises, such as Ctrip, run kindergartens to serve their staff. However, there is hardly any legal supervision over these kindergartens. Many of them are not registered with the local education bureaus, while some companies fail to recruit qualified teaching staff for the kindergartens they run. The investigation into the Ctrip kindergarten is still on, but many previous cases have shown that kindergartens run by companies often have more problems than their public counterparts.
This is not to discourage companies from running their own kindergartens, but to suggest that they should put them under stricter supervision. For example, the companies can introduce third-party supervision. And the government should invest more funds in education to ensure there are more preschool teachers with proper qualifications to meet the growing demand.
Chu Zhaohui, a researcher at the National Institute of Education Sciences