China will be more confident on Sino-US relations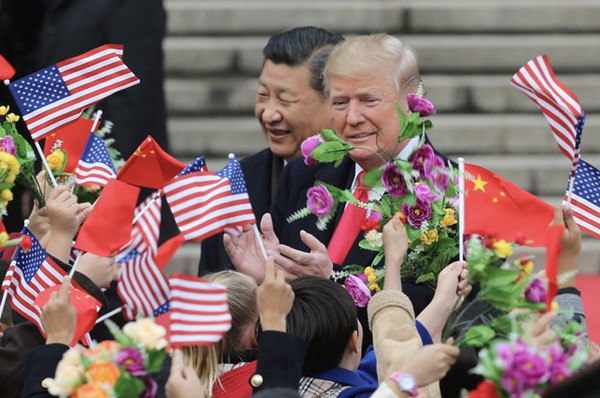 President Xi Jinping welcomes US President Donald Trump at a ceremony at the square near the Great Hall of the People in Beijing, Nov 9, 2017. [Photo by Xu Jingxing/China Daily]
US President Donald Trump arrived in China on a three-day state visit to meet with President Xi Jinping from Nov 8 to 10. The trip came soon after the 19th National Congress of Communist Part of China concluded.
On Thursday, 15 cooperation documents worth more than $250 billion were signed at the Great Hall of the People in Beijing. And the deals signed between Chinese and US companies will be one of the major achievements of Trump's visit to China, which shows there is huge potential for world's largest and second largest economies to cooperate.
China and the United States are highly interdependent on each other based on great common interests. Both countries have clear understandings of their strength and status, and will strive to avoid any major escalation. As Xi said, "we have a thousand reasons to make the Sino-US relations good, and there is no reason to ruin it." Therefore, this visit shows China and the US can be confident to maintain long-term, stable and healthy Sino-US relations.
First, Sino-US relations are very complicated with profound influence across the world; China must strategically plan for the relations under the framework of world politics, and build new international relations with the guidance of the diplomatic theory of great powers with Chinese characteristics. The 19th CPC National Congress exerts great influence on China and makes China more confident than before, China has the ability to shape the Sino-US relations by respecting each other's core interests and achieving win-win cooperation. More importantly by establishing personal bond, Trump can much better understand China's diplomacy and understand that China's rise will not necessarily undermine the US dream of "Make America Great Again".
Second, there is no doubt that the two countries will have problems in future, just as the two may still differ on the approach to resolve the Korean Peninsula question despite their common goal of regional peace. But if China and the US are able to prejudge and make contingent plans, we could control the disparities and ultimately solve the problems.
Finally, China should continue to be a supporter of the current world order.By launching One Belt, One Road Initiative and taking a series of positive actions in multilateral arena, China can make contributions to global governance, which would benefit the world including the US.
The author is with Beijing Language and Culture University.