Discovering Dalian, Northeast China's thriving port city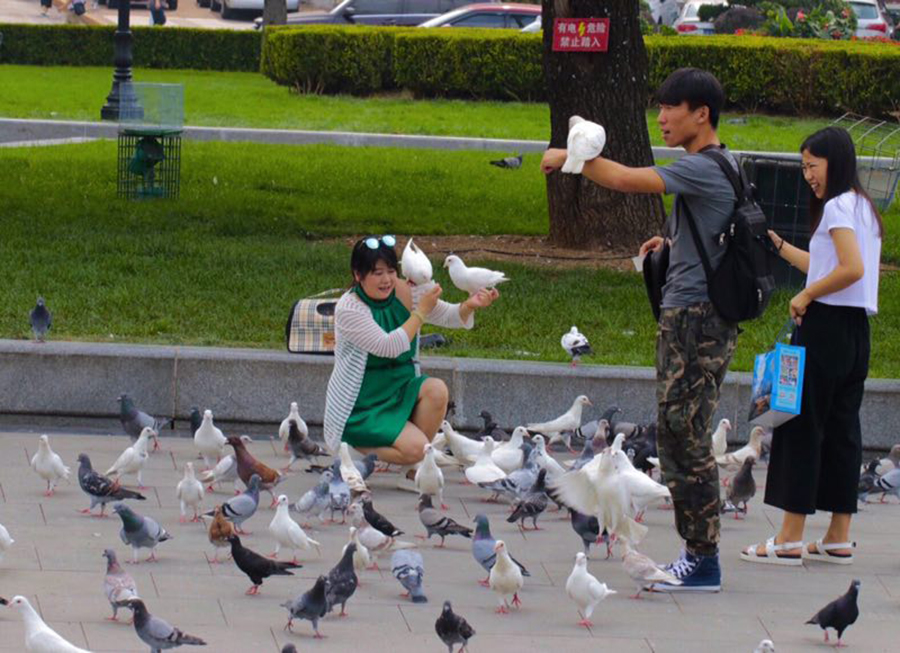 Doves and pigeons at Zhongshan Square. [Photo by Bruce Connolly/chinadaily.com.cn]
After the Russo-Japanese War, in 1905 Japan occupied the formerly Russian-leased territory until 1945. Reminders of that period are the large gothic-style bank, and financial and hotel buildings around Zhongshan Square, illuminated nightly.
A walk eastwards from the Square, along Renmin Road, is like slicing through Dalian's architectural history. Behind the grand early 20th century financial edifices, narrow side alleys reveal a maze of older domestic dwellings, street markets, little restaurants and much fascinating everyday life. Along the main thoroughfare, international hotels rise alongside top-end shopping malls. An intersection with Shiji Street provides a chance to see the iconic trams passing some beautifully restored buildings while sharing space with the automobiles increasingly thronging Dalian's roads – something the early tramway engineers could never have envisioned! But I was walking, always a great way to appreciate a great city!
Gangwan Square is a place to stop, to contemplate again the relationship between history and a fast developing metropolis. Close to the port, this area retains grand historic financial, trade and maritime-related buildings, though beyond is a totally new Dalian. A wide boulevard, Renmin East Road, goes like an arrow across land reclaimed from the sea straight into the heart of Dalian's new CBD - an area playing an important role in presenting modern China to the world. Beyond the gleaming contemporary towers of the Conrad and Hilton Hotels is an instantly recognisable landmark, the Dalian International Conference Center, completed in 2012. It was a venue from June 27-29 this year for the World Economic Forum or Summer Davos – a gathering of investors, CEO's, academics and policy makers focusing on the strength of the Chinese economy.