Seoul should recognize it is in same boat as Beijing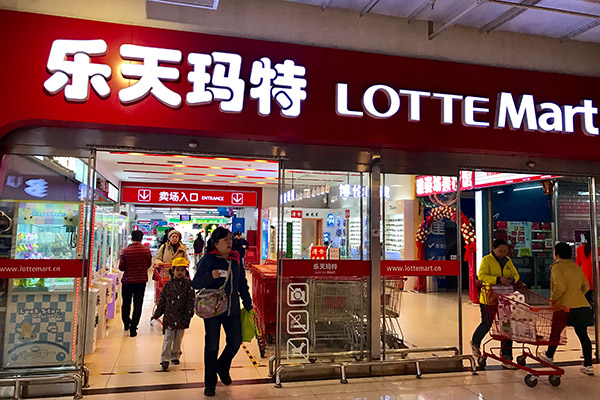 A Lotte Mart in Beijing, Feb 28, 2017. [Photo/China Daily]
The Republic of Korea's fifth-largest conglomerate Lotte Group announced on Friday that it will sell some of its Chinese stores, and could dispose of all of them; a move that is no more than recognition of a fait accompli since Lotte agreed in February to provide land for the installation of the United States' Terminal High Altitude Area Defense antimissile system in the ROK.
Following that decision, more than 80 percent of its hypermart stores in China have reportedly been closed, which has cost Lotte hundreds of millions of dollars.
Yet China can take no comfort in Lotte's business woes in the country, as the move serves neither side any good. For Lotte to exit the hypermarket business in China means it is abandoning a previously thriving market. Although the company's other businesses in China will continue to operate as before, its hypermarts have accounted for about 30 percent of the company's revenue in China, its largest overseas market. And the closure and sale of its stores means about 20,000 Chinese employed by Lotte will lose their jobs, as well as lost opportunities for hundreds of Chinese suppliers.
Lotte's announcement highlights the extent to which relations between the two countries have soured since former ROK president Park Geun-hye agreed to deploy THAAD on ROK soil.
Today, what prompted Lotte to make the decision to hand over its land to the ROK government to house the missile battery is no longer important. As tensions on the Korean Peninsula continue to escalate, it is never too late for the political and business leaders in the ROK to reflect on the lessons to be learned from the Lotte case.
By rolling out the deployment of THAAD despite Beijing's repeated protestations, Seoul has willfully ignored Beijing's concerns due to its fears about Pyongyang's intentions and the pressure applied by Washington in pursuit of its own aims.
Although China has firmly opposed the installation of the THAAD anti-missile system in the ROK from the outset, it is actually in the same boat as the ROK.
There is no need for the relationship to be in the state it is in now, since both countries share the goal of making the region nuclear-free, peaceful and stable.
However, the US flew four F-35B stealth fighter jets and two B-1B bombers over the Korean Peninsula on Monday, which the ROK's defence ministry said was to "demonstrate the deterrence capability of the US-South Korea alliance". Yet Pyongyang is well aware of their military capabilities.
The ROK should reconsider its approach to its own security and instead of relying on the US, it should work to restore relations with China, as together they can work to ease the tensions that continue to dangerously escalate.