Lights of fireflies being extinguished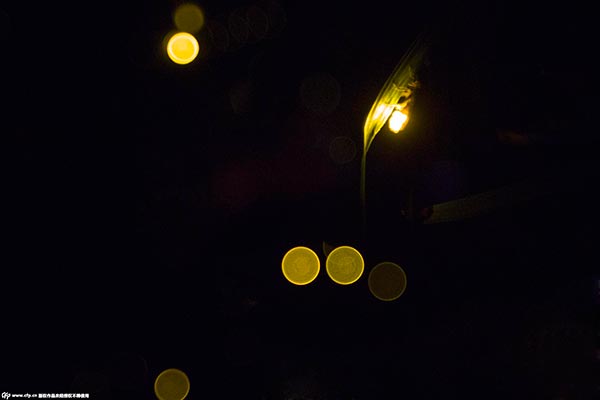 A firefly sparkles in the night. [Photo/CFP]
A LOCAL ENVIRONMENTAL PROTECTION GROUP has called on people to boycott a firefly theme park in Beijing's Fangshan district, as it says most of the supposedly "free-range" fireflies in the park were caught in the wild. Beijing News commented on Thursday:
Although staff members of the Fangshan park responded by saying that the fireflies on display were bred in the wild by firefly farmers, their claim is questionable. China's urbanization has led to the near-extinction of wild fireflies in big cities because the insects are extremely picky about where they live. Only a few dozen wild fireflies have been found on the outskirts of Beijing in recent decades.
The fireflies swarming inside the park in Fangshan are therefore likely not locally bred, since farming them is an equally unlikely option. The cost of farming fireflies can reach 20 yuan ($3) per firefly while one caught in the wild is only 4 yuan. It is an open secret that people are hired to catch wild fireflies in large numbers and sell them to commercial enterprises like the one running the firefly theme park in Fangshan.
It is estimated that last year over 6 million fireflies were displayed at some 121 such theme parks across the country. A lot more must have been caught and sold since many no doubt died during transportation. The extinction of firefly species will only be a matter of time if such insatiable hunting continues.
The prevailing nostalgia for childhood days when fireflies still inhabited cities, should not put wild fireflies in harm's way. Since these insects are no longer able to survive urban life, they are better left in the countryside.
Exploiting them for profit, which has become common since 2015, could deal a heavy blow to the already shrinking firefly population. Dismantling the underground chain of firefly hunting and exhibiting is a step that has to be made to save wild fireflies.