India becoming quasi US ally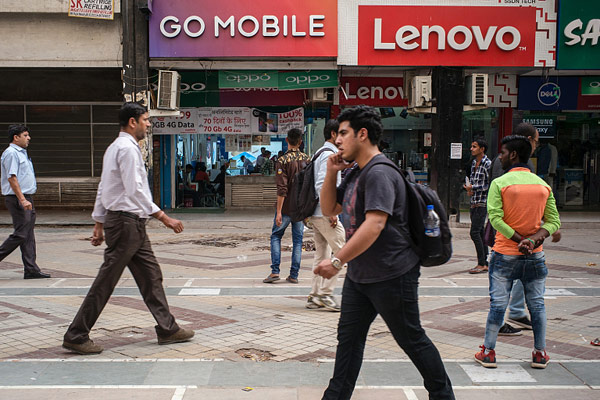 A pedestrian using a smartphone walks past stores selling mobile phones and accessories at the Nehru Place IT Market in New Delhi, India, May 30, 2017. [Photo/VCG]
INDIA AND THE UNITED STATES will conduct the "Yudh Abhyas" joint exercise in the United States from Sept 14 to 27. Beijing News commented on Wednesday:
The September India-US drills, which have been held annually since 2004, will see more than 200 Indian soldiers visit the Joint Base Lewis-McChord in the US. This year, the focus of the exercise has reportedly shifted from anti-terrorism missions to "more complex, combined arms, division-level" ones. The exercise comes two months after this year's Malabar Naval Exercise, conducted by the US, Japan and India in the Bay of Bengal, which dubiously prioritized antisubmarine operations involving the US Navy's Nimitz Carrier Strike Group, the Indian Navy's sole aircraft carrier INS Vikramaditya and Japan's 27,000-tonne helicopter carrier cruiser Izumo.
After Narendra Modi was sworn in as Indian prime minister in 2014, Washington and New Delhi have been getting so close that the latter, an outspoken advocate of the nonaligned movement, is poised to become a quasi US ally-at least in defense terms.
In 2015, then US President Barack Obama paid an unprecedented visit to India's Republic Day celebrations as the chief guest. His defense secretary Ashton Carter visited India four months later to witness the signing of a new bilateral defense pact designed to simplify the transfer of US defense technology to India and deepen cooperation between their defense industries.
A year ago, during his fourth visit to the US since taking office, Modi was invited to deliver a speech to the US Congress and he was not shy in saying India will serve as a chief defense partner of the US. Although US President Donald Trump did not meet Modi until late June, five months after his inauguration, he will no doubt be aware of India's "strategic value" after that summit.
Despite its attempts to hitch a ride on the US' Asia-Pacific policy, an increasingly arrogant New Delhi may not stay loyal to their unspoken partnership. Nor will Washington, which is set to shirk many of its responsibilities worldwide. It would be a shame if Modi fails to see the fact that China and India have a lot more in common than their border dispute.