Shared parking app needs policy support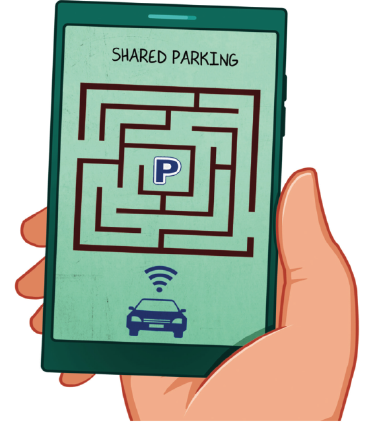 ZHAI HAIJUN/CHINA DAILY
Parking has become a big problem for car owners in cities. According to a "White Paper on Parking Industry Development", prepared by Tsinghua Tongheng Urban Planning& Design Institute in June, the ratio of cars to parking space in China is 2:1, and the parking sector should be worth 17 trillion yuan ($2.55 trillion) to meet most of the needs.
Perhaps that gave rise to the idea of "shared parking space". Unlike shared bicycles, shared parking space has both market demand and policy support. For example, the Yangzhou government in East China's Jiangsu province recently opened 84 of its vacant parking spaces for the public to share.
Since the beginning of this year, metropolises such as Beijing, Shanghai and Guangzhou, too, have been encouraging "shared parking".
Encouraged by market demand and policy support, apps for shared parking have become reality-more than 10 shared parking apps have been floated; they include ETCP and Air Parking which represent two major modes.
Air Parking follows a C2B2C (consumer-to-business-to-consumer) mode, in which residents share their "vacant" parking spaces with fellow residents via the platform. Simply put, people who drive to work and are away from home for most of the day could rent out their parking spaces to those working near their homes.
The platform helps match supply with demand, and facilitates payments between the two. Generally, one half of the payment from the parking space user goes to the parking space owner. This service arrangement is similar to the car-calling app Didi Kuaidi, which "helps increase" the number of taxis on the streets by allowing people to share their cars with others. In essence, the arrangement expands the market.
In the case of shared bikes, as more companies enter the bike-sharing market, more people choose to ride bikes, instead of walking or taking a bus. Thus, the bike-sharing market is incremental in nature.
But it is debatable whether the shared-parking market is also incremental. For instance, if someone who has rented out his parking space during office hours returns home early, will he or she get a place to park his car? Besides, since most residential communities allow only house owners to park their cars on the compound or in underground parking lots, how can a person negotiate with community managements to allow an "outsider" to park his or her car there?
ETCP, on the other hand, follows the B2C (business-to-consumer) mode. It mainly acts as a coordinator between big parking lot owners, such as airports, office buildings commercial complexes on the one hand and drivers on the other to make sure the parking spaces are put to optimum use. The advantage of this mode is that the parking needs of most car users are relatively fixed and the app allows them to get a parking space at lower costs.
ETCP has signed contracts with more than 2 million parking spaces. But the B2C mode is constrained, because available parking space is limited.
Besides, the two modes have a common problem: distance. Data show that in the central business district of Beijing, there are about 630,000 vacant parking spaces at night, while the needed number for parking spaces is about 850,000. The gap does not seem big, but in reality people find it very difficult to park their cars in CBD, because few choose to park their cars even 10 minutes' walk away from their destination.
That's why when the Hanjiang district government in Yangzhou opened its vacant parking spaces to the public, few people chose to use them. The reason: they are far from the entertainment zone.
Shared parking space is an emerging market, and both modes have their advantages and disadvantages. To reduce, if not eliminate, these disadvantages, local governments have to provide more policy support for the emerging business.
The author is a researcher at Shanghai Institute for Finance and Law.