Refusing cash not an option for mobile payment firms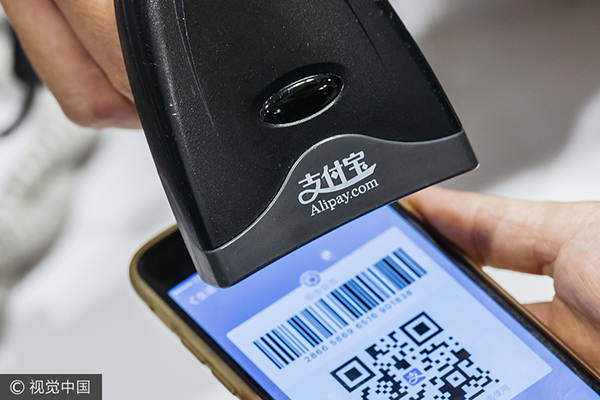 An employee scans a quick response (QR) code displayed on Alipay app at a store in Hong Kong. [Photo/VCG]
China is becoming increasingly digitalized, with people, especially the youth, preferring to use mobile apps to pay for almost anything, from food to air tickets. No doubt, mobile payment platforms, notably WeChat Pay and Alipay, are responsible for making possible this trend. But despite that, recent efforts by Alipay to promote cash-free living in some cities have created controversy after some participating merchants refused to accept cash, or payments made in renminbi in China's case.
The People's Bank of China, the country's central bank, quickly stepped in. A local branch of the central bank reportedly required Ant Financial, which runs Alipay, to change the wordings of its promotion by deleting "cashless" from its advertisements.
The central bank's intervention has sparked heated discussions on China's social media platforms, with some accusing it of "overstepping" its authority and others supporting its regulatory move.
Normal promotions for mobile payment are acceptable and should not be stopped by any regulatory body. In fact, without the central bank's nod for mobile payment companies to be connected with traditional banks, China's mobile payment system would not have achieved such a strong growth in recent years.
Things, however, are different this time. By hinting at discouraging the use of cash, or renminbi payment-with some merchants going so far as to refuse to accept cash-Alipay has crossed the legal red line. China's Regulation on the Administration of Renminbi clearly stipulates that no individual or business can refuse to accept renminbi as a negotiable instrument in transactions.
By directing Ant Financial to stop using "cashless" in its promotional ads, the central bank is performing its due legal duty of market regulation. In other words, the central bank's intervention is not a violation, as some online posts say, of free market principles.
Simply put, mobile payment companies would not have been stopped from promoting their services had they not breached the law.
Besides, the law requiring unconditional acceptance of cash is absolutely reasonable.
No matter how advanced the mobile payment system becomes, in a country as large as China, where development levels vary from region to region, there will always be a large number of people who prefer to pay in cash for the products they buy. Their freedom of choice should be respected, and the refusal by businesses to accept cash will cause a lot of inconvenience to them and compromise their rights and interests.
China has nearly 900 million smartphone users, according to the Ministry of Industry and Information Technology. But considering that the country's total population is more than 1.3 billion, there are still many people who prefer using cash, not mobile payment.
A survey jointly conducted by Renmin University of China, research company Ipsos and internet giant Tencent Holdings shows that 14 percent of China's population use mobile payment apps to make purchases, with young people carrying far less cash. In absolute terms, on average people in their twenties carry about $26 in cash compared with $83 by those aged 50 and above.
Mobile payment seems set to become the main mode of payment in China and other countries in the coming years. For now, however, it is still not the preferred mode of payment for the majority of the people. Businesses promoting mobile payment can offer preferential policies, such as discounts, to woo consumers. But they should have room for the use of cash by consumers.
The author is a senior writer with China Daily. xinzhiming@chinadaily.com.cn