Trump asking too much from Beijing on peninsula issue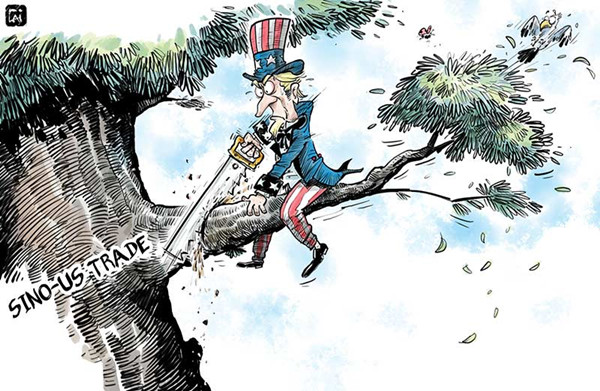 Sino-US trade / China Daily
US President Donald Trump will reportedly sign an executive memorandum on Monday authorizing the US trade representative to determine whether to investigate the allegedly "unfair" Chinese trade practices, which could pave the way for punitive tariffs on Chinese exports.
But it is of critical strategic significance that his administration demonstrates reason and avoids making a rash decision it will soon regret.
Given Trump's transactional approach to foreign affairs, it is impossible to look at the matter without taking into account his increasing disappointment at what he deems as China's failure to bring into line the Democratic People's Republic of Korea. His idea of exploiting trade as a bargaining chip in dealings with China dates back to the campaign trail.
But instead of advancing the United States' interests, politicizing trade will only acerbate the country's economic woes, and poison the overall China-US relationship.
Blaming China for "unfair" trade is unfair in the first place. The trade imbalance, regular fodder for China-bashing on Capitol Hill, is, to a great extent, self-inflicted, an outcome of the US' political restrictions on exports to China. Yet this essential aspect is conspicuously absent in the US' narrative. The list of US gains in trade with China can grow or shrink, depending on how trade issues are handled.
While Trump's prior identity as a businessman may explain his transactional propensity, the deal he seeks demands the impossible of Beijing.
It is unfair for him to consign the burden of dissuading Pyongyang on Beijing; likewise to accuse Beijing of doing "little" or "nothing".
East Asia expert and former US ambassador to the Republic of Korea Christopher Hill was correct in observing Trump should not "outsource" the US' own troubles to China.
As Chinese President Xi Jinping again told Trump on Saturday, Beijing also seeks denuclearization of the Korean Peninsula. It would not have voted in favor of the latest United Nations resolution against Pyongyang's missile/nuclear adventures if this was not the case. The only difference is, Beijing wants to break the circle of escalation.
By trying to incriminate Beijing as an accomplice in the DPRK's nuclear adventure and blame it for a failure that is essentially a failure of all stakeholders, Trump risks making the serious mistake of splitting up the international coalition that is the means to resolve the issue peacefully.
Hopefully Trump will find another path. Things will become even more difficult if Beijing and Washington are pitted against each other.