Wolf Warriors II fights through odds to promote Chinese values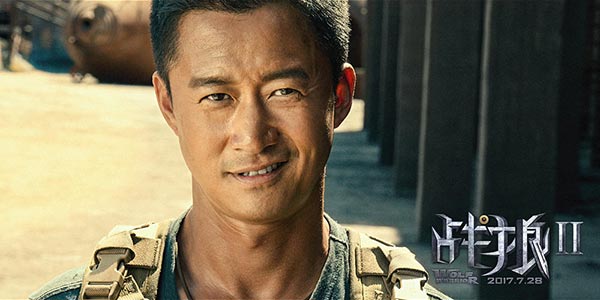 Wu Jing in Wolf Warrior 2 [Photo/Mtime]
It may be an action movie but it puts a rising China in the spotlight. It is also the first movie that has tasted success both in terms of earnings and promoting patriotism. And it is a rare effort in which the protagonist tries to win the audience's hearts by shedding sweat and blood rather than flaunting his good looks.
It is Wolf Warriors II, directed by and starring Chinese martial artist Wu Jing. The film had earned nearly 3.4 billion yuan ($505.75 million) by Monday and set a record for domestic movies at the box office.
The film revolves around a rescue operation in Africa led by a former People's Liberation Army SWAT soldier Leng Feng (played by Wu Jing). Leng helps Chinese businessmen, workers and African locals to flee a war-torn and plague-ravaged country. Moviegoers have been touched by film despite the controversy over individual heroism because the plot focuses on patriotism.
Wolf Warriors II, in spite of the some loopholes in storytelling, links art to reality, and reminds people of the massive evacuation of Chinese people from Libya when civil war broke out in that country in 2011, and from Yemen in 2015, as well as the challenges the Ebola virus created in West Africa from 2013 to 2016. It also vividly reflects the booming economic and people-to-people exchanges between China and Africa.
On a different level, the film raises questions about the risks countries and regions involved in the Belt and Road Initiative face, while providing the answer to how the Chinese government aims to protect the safety of overseas Chinese. The movie also gives a shot in the arm to the PLA Navy and its fleet, especially since it was released on the eve of the 90th anniversary of the founding of the PLA.
For a long time, Chinese audiences have preferred Hollywood blockbusters thanks to their better storylines and visual effects, notwithstanding their geopolitical standpoint. From the Mission Impossible to James Bond series to even some science fiction movies, Hollywood has always projected the United States' perspective about the world. And the US government and Pentagon have always helped Hollywood to promote the American "dream factory".
This means there remains a gap between Chinese film producers and their Hollywood counterparts when it comes to projecting their cultures and values. While Hollywood is adept at portraying American heroes, be they historical or fictitious, many Chinese films focus on good looks and hollow "intellectual property" such as popular online novels or games.
Last year, domestic films earned 26.66 billion yuan at the box office, accounting for 58.33 percent of the total movie market of 45.7 billion yuan. Though domestic films are acquiring a greater share of the Chinese market, audiences often lament the poor quality of some Chinese movies.
But Wolf Warriors II is different. Holding aloft the banner of patriotism, peace, friendship, and global responsibility, it should be seen as a brave effort to promote Chinese values to gain commercial success. There is nothing wrong in focusing on a modern Chinese military hero, especially because there are many such heroes in real life thanks to China's increasing participation in global affairs.
Wu Jing's movie is an effort in the right direction. And the market, which decides what kinds of films audiences like, has given a thumbs-up to Wolf Warriors II. The related Chinese authorities need to learn from the cooperation between Hollywood and US government and Pentagon, and give more support to those movies that carry Chinese values of friendship, responsibility and camaraderie.
The sharp contrast between people's wholehearted support for Wolf Warriors II and their cold response to a movie about "the most beautiful fairy couple" are signs of Chinese audience's growing aversion to pretty faces.
It's time Chinese filmmakers read the writing on the wall and produced films that tell good stories and carry the right spirit. Let us assume Wolf Warriors II has started that trend.
The author is a writer with China Daily.