Sanctions bill limits Trump's power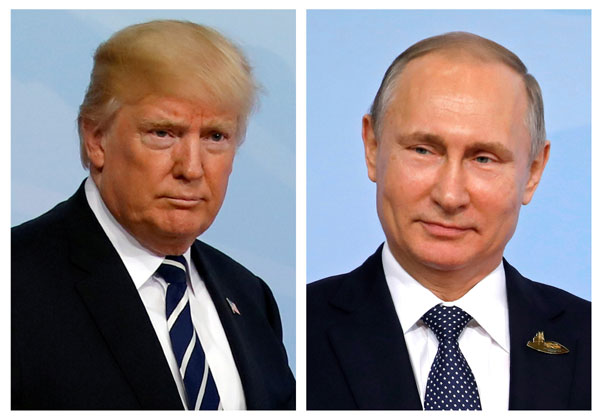 A combination of two photos shows US President Donald Trump and Russian President Vladimir Putin as they arrive for the G20 leaders summit in Hamburg, Germany, July 7, 2017. [Photo/Agencies]
DONALD TRUMP is expected to sign legislation that imposes sweeping sanctions on Russia, Iran and the Democratic People's Republic of Korea, and he will have to consult Congress if he wants to lift them. Beijing Youth Daily commented on Saturday:
The approval of the simultaneous sanctions on the three countries with an overwhelming bipartisan majority of 97 to 2 in the Senate has implications for the Trump administration, as the bill requires Trump to acquire congressional approval before he eases or lifts the sanctions.
That the move limits the president's powers to lift the sanctions points to an ever-solid bipartisan consensus that the president of the United States, who normally does not need congressional support to exercise diplomatic powers, should be subject to Congress. The pro-establishment forces in both the Republican Party and the Democratic Party may have played a role in pushing forward the bill, as Congress remains vigilant to Trump's handling of ties with Russia.
The Russian factor has been a thorn in the US politics since Trump's election. The legislation is in part a response to conclusions by US intelligence agencies that Russia meddled in last year's presidential election in the United States, and to further limit Trump's inclination to seek warmer ties with Moscow.
Even if he refuses to endorse the legislation, Congress could still overrule Trump and turn the bill into law.
Meanwhile, the legislation risks invoking retaliation from the sanctioned parties. The Russian Foreign Ministry has complained of "growing anti-Russian feeling" in the US, and Russian President Vladimir Putin said on Tuesday that his country would fight back against "boorish US behavior".
Iranian President Hassan Rouhani took a similar stance more than a week ago after US State Department complained Iran was "in default of the spirit" of the 2015 nuclear deal.
All in all, it reinforces the impression that the Trump administration's learning curve is exceptionally long.