A tone-setting meeting for Party congress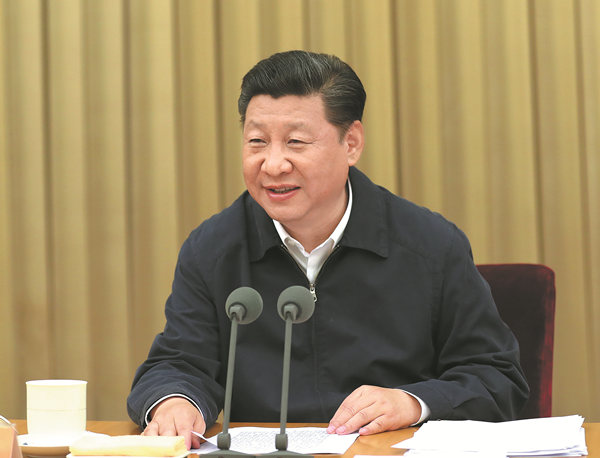 Xi Jinping, general secretary of the CPC Central Committee, speaks at a symposium for provincial and ministerial level officials held on Wednesday and Thursday in preparation for the 19th National Congress of the Communist Party of China. MA ZHANCHENG / XINHUA
The keynote speech made by Xi Jinping, general secretary of the Central Committee of the Communist Party of China, at a high-profile workshop this week offers a glimpse into the themes of the upcoming CPC National Congress. The speech lays an important political, ideological and theoretical foundation for the success of the 19th CPC National Congress slated for later this year.
It has been a routine practice for the Party's top leader to address high-level officials ahead of the CPC National Congress, held every five years, to unify Party members' thoughts and chart out the future course of development.
The top leader's tone-setting speech, which summarized the achievements made in theories and practices since the 18th CPC National Congress in November 2012, was a mobilization call.
In his speech, Xi hailed "the historic changes" in the development of the CPC and the nation over the past five years, saying China's development is standing at a new historical starting point, and socialism with Chinese characteristics has entered a new development stage.
The major achievements made in socialism with Chinese characteristics mean the Chinese nation, which experienced tribulations and hardships in modern times, has made a historic leap from "standing up" to becoming better-off to getting stronger, Xi said.
This also means that socialism with Chinese characteristics has expanded the pathway to modernization for developing countries, thus providing "Chinese wisdom" and "Chinese solutions" to problems facing humankind, Xi said.
Xi's speech adeptly puts forward the vision for China's future development. He said China must accomplish the national goal of building a moderately prosperous society by 2020, and strive for the great victory of socialism with Chinese characteristics as well as the Chinese Dream of national rejuvenation.
To achieve that end, he called for continuous efforts to promote economic, political, cultural, social and ecological progress, and urged the Party to enhance theoretical confidence and strategic focus, broaden its vision, and give a new summation of its theories.
In terms of economic and social development, Xi emphasized commitment to the supply-side structural reform. Efforts should also be made to prevent and defuse major risks, alleviate poverty, and prevent and control pollution to push forward sustained and healthy economic and social development.
"The strict governance of the Party will always be an ongoing process," Xi said, stressing that the future of a political party or government is ultimately determined by whether the people are for or against it.
Presiding over the opening session of the workshop, Premier Li Keqiang called on senior Party officials to study Xi's speech, follow its spirit both in thought and action, and stay committed to the principles and values of the CPC Central Committee with Xi at its core.
The CPC has convened seven national congresses since the reform and opening-up was initiated in the late 1970s.
The authors are writers with Xinhua News Agency.