App-ing away to an active, healthier life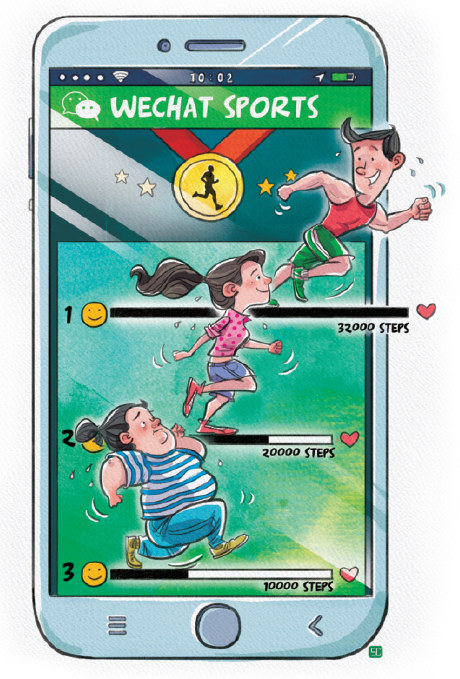 SONG CHEN/CHINA DAILY
Last year, I activated the fitness tracking function in China's most popular instant messaging app WeChat in a bid to stay fit. By opting for an account that pulls motion data from my smartphone and auto-counts my steps, I was ranked against my account peers based on the number of steps I took everyday.
I was motivated to intensify my exercise regime after seeing people I knew taking far more steps than me, and to catch up, I began using a treadmill while holding my phone in hand. For some time, I rose quite high in the rankings-into the top 10-and received a lot of "likes" from my WeChat friends, which encouraged me to exercise even more.
The advantage of using the WeChat sports function is that it taps into the psychology of people who have the tendency to perform better on a task when they compete with others engaged in the same task, particularly if they know each other.
The WeChat sports function, launched in 2015, has become quite popular-nearly 900 million people were using it at the end of last year. The popularity of such fitness motivators shows that people are becoming more conscious about the quality of their life and the importance of staying healthy.
Annual surveys by the National Health and Family Planning Commission on public health awareness show that people have become more health conscious. And that among all the "stay healthy" messages, having an active lifestyle is the one most followed.
In Beijing, for example, people swarm to the Olympic Forest Park to jog or walk regularly. And it's not just young people who exert themselves in this way. The elderly, particularly retirees, can be seen in groups briskly walking the same routes.
This is a good development, for thanks to rapid economic growth, Chinese people have adopted sedentary and unhealthy lifestyles, such as diets that are high in fat and sugar. As a result, chronic diseases such as obesity, cardiovascular problems, hypertension and diabetes have become top killers.
Raising people's health awareness can ease some of the burden on China's healthcare system. Today, 87 percent of the total deaths in the country are caused by chronic diseases. Hospitals are packed with people who need lifelong intervention, and currently, some 80 percent of the medical cost is spent on chronic conditions.
In response, the government has launched public health education programs, and even issued food and nutrition guidelines that recommend people eat less red meat and engage in more physical exercises such as brisk walking.
"Without such systematic intervention, China will suffer an unbearable explosion of chronic diseases," says Mao Qun'an, the spokesman for the National Health and Family Planning Commission.
My father, who is in his early 70s, loved stewed fatty pork and enjoyed it for more than half a century. But after being diagnosed with hypertension and diabetes, he changed his eating habit; now only fish and chicken comprise his non-vegetarian diet. To ease the worries of his only daughter who works and lives more than 1,000 kilometers away, my father took the government advice to heart and cut out red meat from his diet.
Now, he too uses the WeChat sports function. And since he is very disciplined, he walks 8,000 steps every day. After he learned that I was trying to walk 10,000 steps a day, he strived to cover a few more steps than me, which made his name appear just ahead of mine in the daily rankings.
That, as my mother later told me, was a distant hello and "I am doing well and miss you" from my father. I'm glad the government's health message has hit home.
The author is a reporter with China Daily. shanjuan@chinadaily.com.cn