Tackle healthcare scams on elderly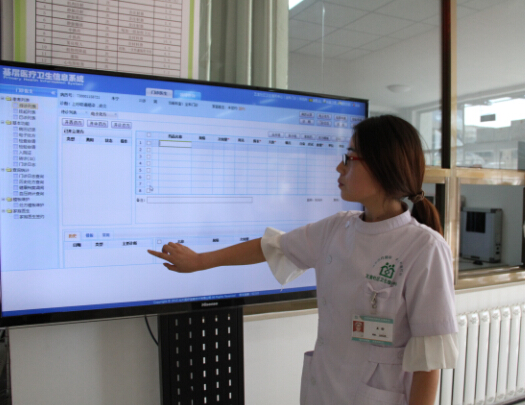 A doctor at a community clinic shows how to use the smart healthcare management system.[Photo/China Daily]
The annual sales of healthcare products could reach 200 billion yuan ($29 billion) in China, more than half of which are expected to be purchased by senior citizens, according to a report by China Central Television. The Mirror commented on Wednesday:
Purchasing healthcare products is a part of life for elderly people, but the pain is being felt by their loved ones who often fail to convince them that many of the much-touted "healthcare programs" are nothing but scams.
Earlier this month a senior citizen in Qingdao, East China's Shandong province, jumped into the sea to end his life after being swindled out of nearly 100,000 yuan by the salespersons of healthcare products during the past four years.
That many elderly fall for primitive sales tricks has a lot to do with their yearning for consolation and company in the absence of their children. The salespersons will target old couples living alone by visiting them frequently with small gifts and inviting them to health "seminars", where they are invariably lured into buying healthcare products.
To keep them on the hook their illnesses will be exaggerated by so-called medical experts. It is almost impossible for these aged customers to step back once they make the first payment.
However, their children should not take all the blame for this situation. Most victimized seniors are individuals capable of making their own decisions, and they tend to turn a blind eye to their children's suggestions or warnings and even keep their "investment" in healthcare to themselves until their money runs out.
The real issue is in the unregulated, deceitful promotion of healthcare products. Efforts have been made to guarantee the quality and authenticity of these products, yet what many salespersons do goes beyond promotion. In some cases it is just fraud.