Harsher penalties could deter officials from misreporting disaster death tolls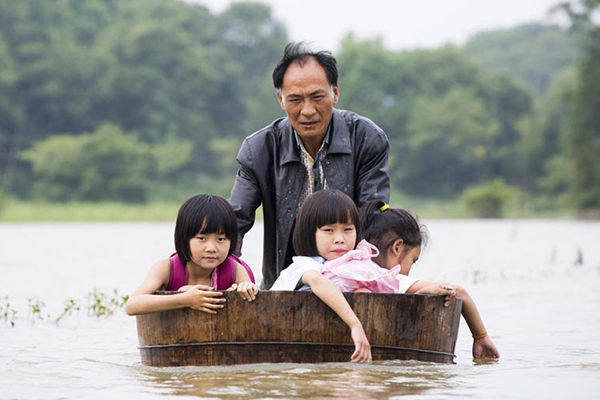 A man pushes a wooden basin in which his granddaugter sits through a flooded road at Lianhua village, Duchang county, East China's Jiangxi province, on June 27.[Photo/China Daily]
On Aug 4, 2012, a flood hit several cities in northeastern China's Liaoning province. In December, media outlets found that the Youyan Man autonomous county, which suffered from the disaster, had 38 deaths but reported there were only five deaths and three people missing to higher authorities. On Tuesday, the media reported that Liaoyang county, which is adjacent to Youyan, had at least seven deaths or missing, but claimed there were "zero casualties". An editorial on thepaper.cn comments:
According to the official website of the Liaoning provincial government, it has formed an investigation team to probe the incident. If any officials are found to have concealed information, they will face penalties.
Maybe we should ask why officials in the two counties might want to misreport the number of people who died or went missing in the disaster. According to the law and government regulations, those officials who fail to send pre-warnings and/or fail to effectively rescue people in natural disasters will be held responsible for their failure to protect residents. It is highly possible that the officials concealed the number in order to escape their deserved penalties.
Worse, some officials hide the number of deaths in a disaster in order to boost their "achievements". Reports show that Liaoyang officials boasted they had "a glorious victory in fighting the flood" in 2012, and the "zero casualties" were an important part of their boasted achievement. This is a kind of corruption, too.
In doing so, the local officials overestimated the benefits of hiding the deaths and underestimated the central government's determination to fight corruption.
The flood in August 2012 hit more than just the two aforementioned counties in Liaoning. Did any other counties hide the number of deaths? Did any other officials report false death tolls? These are questions that must be answered. It is time higher authorities probed deeper into the incident and investigated more cities.
But more important, the higher authorities need to broaden the channel of obtaining information, so that local officials are no longer able to hide key information. The penalty for false information should be made harsher, too, to deter local officials from trying to hide the truth.