Vocational schools better than college for some students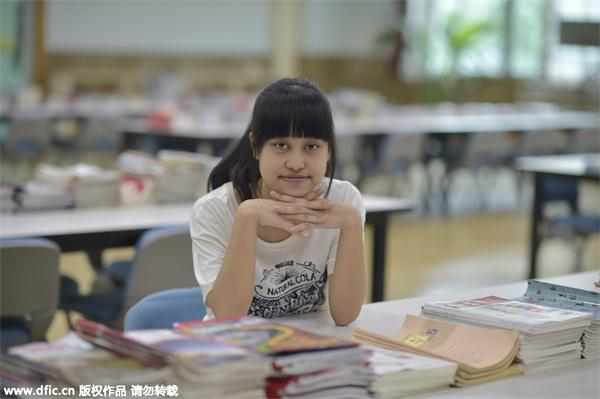 The top scorer in 2015 national college entrance exam in Chongqing. [Photo/IC]
MINISTER OF EDUCATION Chen Baosheng said during a news conference on Sunday that China needs great masters like Albert Einstein and Thomas Edison as well as talents like Lu Ban, a famous carpenter about 2,000 years ago. Legal Evening News commented on Tuesday:
Before the national college entrance exams, the public's attention is concentrated on the exams. After the results of the exams are released, the focus shifts to the top graduates. And after the graduation season, the employment rate of the college graduates is the issue that attracts attention. Missing from this spotlight on higher education is vocational education.
However, statistics show the achievements in the field of vocational training are quite outstanding: more than 95 percent of vocational trainees at the secondary school level find their jobs immediately after graduation, and more than 90 percent of trainees at higher vocational schools find jobs on graduation.
Some may argue that universities should be the soil for nurturing Einsteins and employment shouldn't be their aim. But the difficulty for universities nowadays, as East China Normal University professor Gao Shu has said, is the mediocre performance and a lack of accomplishment after graduation of many college students, for whom a better choice would have been going to a vocational school.
In this regard, over the years, the shortage of young people with high skills and practical abilities has become obvious in the labor market. It has even affected China's progressing from a manufacturing country to a manufacturing power.
Highly skilled talents do not have to be graduates with doctorial degrees, but graduates from a variety of specialized schools and higher vocational and technical schools.
There is a lot of space for these schools to develop.