A historic legal milestone – China's general provisions of civil law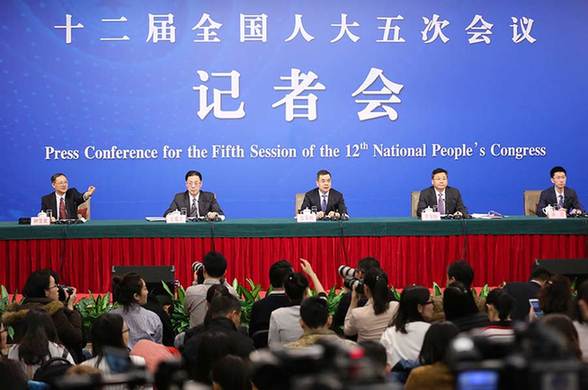 A news conference on draft general provisions of civil law is held in Beijing, March 9, 2017. [Kuang Linhua/China Daily] 
On Wednesday, March 15, 2017, the 5th Session of the 12th National People Congress (NPC) is scheduled to formally adopt the General Provisions of Civil Law.
The General Provisions of Civil Law constitute the general part of the People's Republic of China's first-ever comprehensive Civil Code, which is due for roll-out in 2020 after literally decades of preparatory work and rigorous debates.
The General Provisions consist of 210 articles and 11 chapters and are based on the landmark 1986 General Principles of Civil Law (GPCL), which were partly revised in 2009.
The finalized Civil Code, when promulgated in 2020, will include additional specific chapters on contracts, property rights, torts liability, marriage, succession, and foreign-related civil relationships, among others.
 All of these specific, albeit quite lengthy, chapters already exist as free-standing Chinese laws which will be incorporated in the comprehensive PRC Civil Code.
The General Provisions provide the overall framework for China's Civil Code which fundamentally defines and protects the civil and commercial rights of Chinese individuals, business entities, and other institutions in Chinese society. The General Provisions, as the core chapter of the Civil Code, also delineate legal relations between Chinese citizens and social and economic organizations, on the one hand, and Chinese government and administrative authorities, on the other.
As such, the NPC adoption of the General Provisions is a historic event of the highest magnitude for China's legal system development and the rule of law in China.
The adoption of the General Provisions also marks a watershed for China in its quest to be recognized globally as a great power. China cannot become a truly great power without a world-class legal system. This is, without doubt, a major step in that direction.
The General Provisions are noteworthy in that they break new ground on various subjects updating and revising the earlier GPCL in light of the myriad social and economic changes that have impacted China in the ensuing decades. The General Provisions provide new definitions of legal persons: particularly, for-profit and non-profit legal persons. The non-legal person organization, including partnerships and sole proprietorships, is also a new wrinkle not found in the earlier GPCL.