Say no to inertia of officials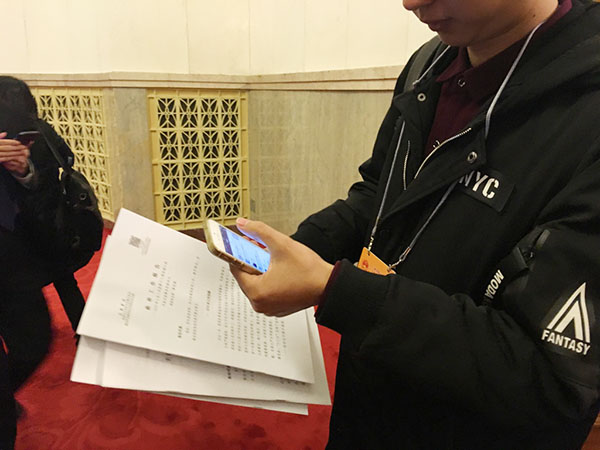 A reporter scans the QR code on the Government Work Report's first page in Beijing on March 5, 2017. [Photo by Gao Qing/chinadaily.com.cn]
In the Government Work Report he delivered to the fifth plenary session of the 12th National People's Congress, the country's top legislature, on March 5, Premier Li Keqiang said the central government must continue its efforts to simplify administrative procedures and delegate more power to lower-level governments and optimize services.
Over the past four years, the central government has emphasized the need to simplify administrative procedures and delegate powers to lower levels of governments but doing so remains a particularly complex and arduous task.
Under a series of rectification campaigns launched by the top authorities, the working style of officials has been changed for the better in recent years. However, there are still mediocre and lazy officials who act in a more covert manner, as well as those who take no action at all, since the mindset still exists among some public employees that doing nothing is better than doing the wrong thing.
The inertia of these officials makes it difficult for the policies of the central government to be implemented and stalls reform measures. And, more important, it accelerates the worsening of the administrative ecology. In this sense, low-efficiency governance is recessive corruption.
The systematic factors behind the occurrence of such kind of behavior need to be identified and addressed. For example, the assessment and supervision system should be strengthened and a responsibility and accountability system strictly implemented.
Moreover, a social supervision mechanism should be introduced so that social organizations, the media and public can actively participate in the supervision of the work of public employees. However, officials should also be allowed to commit mistakes without fear of being punished.
Fundamentally though, the country should hold toward the inaction of officials the same attitude of zero tolerance it does toward corruption.