Promoter of inclusive and mutually beneficial world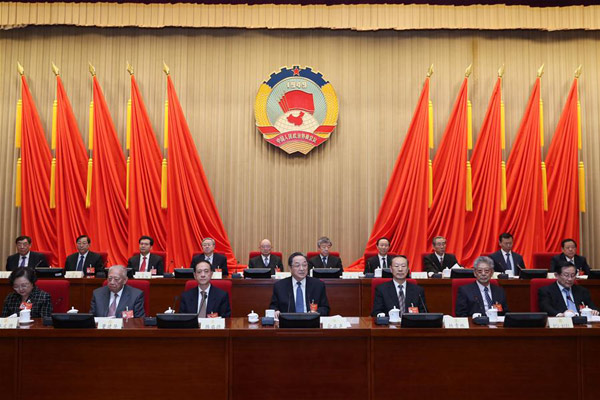 Yu Zhengsheng, chairman of the National Committee of the Chinese People's Political Consultative Conference (CPPCC), presides over the second plenary meeting of the 20th meeting of the Standing Committee of the 12th National Committee of the CPPCC in Beijing, capital of China, March 12, 2017. The first and second plenary meetings of the 20th meeting of the Standing Committee of the 12th National Committee of the CPPCC were held in Beijing on March 10 and March 12, respectively. [Photo/Xinhua]
The annual sessions of China's top legislature and political advisory body this year have drawn much international attention.
The world seems to be looking to China for answers to many of the problems beyond its borders, and of the more than 3,000 registered journalists covering the two sessions, nearly 1,300 have been from overseas.
The hopes that China can play a more active role in global governance are well-founded. While protectionism, populism and anti-globalization are leading to confusion and adding concerns amid the slow recovery of the world economy, China has stood firm for free trade and globalization. Which bodes well for the global economy, as it contributed more than 30 percent of the global growth last year.
As the curtain falls on the fifth plenary session of the 12th National People's Congress on Wednesday, the meeting of the country's top legislature has conveyed ample reasons for the world to have confidence in China.
In the Government Work Report delivered at the opening of the session on March 5, Premier Li Keqiang reaffirmed China's commitment to advancing a new round of opening-up to embrace the international market. He also promised the country will continue to open more service sectors to foreign capital and level the playing field for domestic and foreign companies to compete on fair terms. "China's opening door will not close again," as President Xi Jinping said at a panel discussion hosted by the NPC Shanghai delegation that day.
The opening door has also allowed Chinese companies to go abroad, bringing with them capital and technologies and creating local jobs.
China invested $14.53 billion last year in more than 53 countries along the routes of the Silk Road Economic Belt and the 21st Century Maritime Silk Road, which Xi proposed in 2013 to bolster trade and infrastructure connectivity with countries mainly in Asia, Africa and Europe.
It is no surprise that many nations view the Belt and Road Initiative as a new form of globalization which is more inclusive, fairer and mutually beneficial.
The new thoughts and actions of Xi's governance philosophy are revitalizing and renewing China's economy and rejuvenating the nation, a common dream of 1.3 billion Chinese people whose realization will not only benefit themselves but also the whole world.
As Xi has said, all countries are a closely knit community of shared destiny. China is now willing and has the capability to share with the world the benefits of its development.