Common sense in any language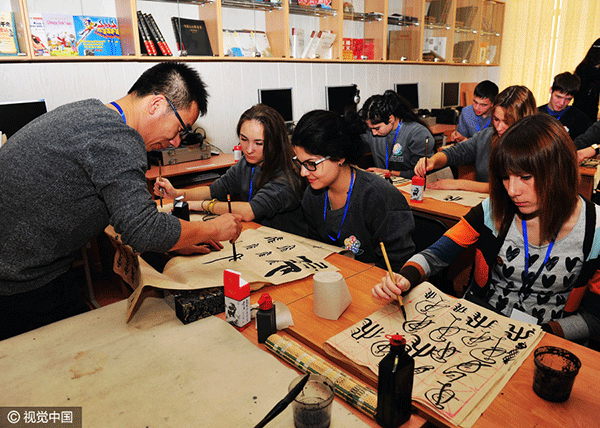 Students of Confucius Institute learn Chinese calligraphy in Russia on October 22, 2013. [Photo/VCG]
We used to have a saying in the Anglosphere during the Cold War 1970s that optimists learned Russian while pessimists learned Chinese. It was a knowing, if flippant, expression of a contrary view that the Soviet Union was not the West's biggest challenger. Ultimately China would re-emerge as the dominant world power.
That seemed a ludicrously distant proposition at a time when China was emerging from the "cultural revolution" (1966-76) and Richard Nixon, then US President, had only just initiated his pivot toward Beijing. After that started an era of reform and opening-up in China and the rest, as they say, is history.
Soviet power crumbled, the United States emerged as the lone superpower and China continued on an economic long march that is seeing it challenge the US in the present decade for the title of world's largest economy.
So were all those optimistic Anglophones who learned Russian wasting their time? Are all those pessimists who learned Chinese poised to reap the benefits? The evidence is that most of the Anglosphere learned neither and remained stubbornly monolingual, while the rest of the world was busy learning English. English is now the undisputed language of international exchange. French, which once dominated diplomacy, has all but given up the ghost.
Around the world English is the lingua franca among millions of non-native speakers. Business deals and treaties are negotiated via the medium of what has become the number one world language. That may represent some kind of triumph for the Anglosphere, but it is scarcely a personal victory for individual Americans, Britons or other Anglophones.
They are less and less likely to speak another language.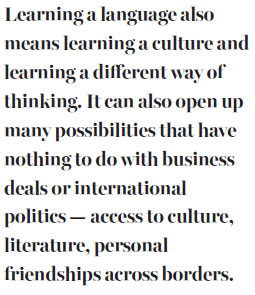 An official 2013 British Council report revealed an "alarming shortage" of people able to speak the 10 languages vital to the country's future prosperity and global standing. Chinese figured prominently at number four on the British Council list.
Despite that warning, subsequent evidence shows that language learning has declined further in British schools. A 2015 report said British teachers found attracting pupils to study languages after the age of 16 was a "challenge". One small consolation was a "modest increase" - from a low base - in the number of schools offering Chinese, a language "recognized as crucial to the United Kingdom's long-term competitiveness".
In the US, the situation is even worse. A 2015 survey showed that budget cuts, low enrollments and teacher shortages meant Americans were falling behind the rest of the world. And less than 1 percent of American adults were proficient in a foreign language that they studied at school, in an era when one in five American jobs are tied to international trade.
Sadly, a largely monolingual Anglosphere can probably continue to thrive in a globalized world despite the dire warnings of the educationalists. Now that everyone else seems to speak English, it may be tempting to ask, "what's the problem".
The problem is perhaps that learning a language also means learning a culture and learning a different way of thinking. It can also open up many possibilities that have nothing to do with business deals or international politics - access to culture, literature, personal friendships across borders.
It is not too farfetched to theorize that the insularity so recently displayed by voters in the UK and the US might have at least some connection to the language issue.
It has never been easier than now to learn a language through a range of online resources, many of them free. They even say it is good for your brain. Studies say bilingualism can delay the onset of dementia.
So, as you start out on your New Year resolutions, forget the gym membership (you know you won't last more than a month) and learn a language instead.
Haoyun! Good luck!
The author is a senior editorial consultant for China Daily UK.