Growing capability to extend range of defense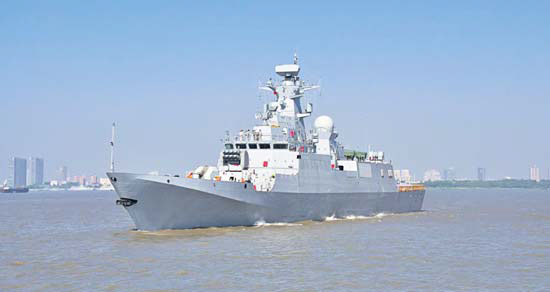 The C28A-class corvette represents the highest technological level of China's warships for export. [Photo provided to China Daily]
A battle group of Chinese warships led by the CNS Liaoning, China's only aircraft carrier, is heading for the Western Pacific to conduct an open-sea exercise beyond the so-called first island chain, which consists of the Ryukyu Islands currently under Japanese administration, China's Taiwan, and the northern Philippines. Beijing News commented on Tuesday:
In the 1950s, the United States and its allies installed advanced weapons at bases along the chain of islands, in a bid to maintain a strong military presence and contain China and other countries governed by communist parties.
Today's situations are different. According to reports, the Liaoning group has about 13 J-15 carrier-borne fighter jets for the exercises outside the first island chain. Albeit part of a routine training mission, the battle group's presence in the Western Pacific signals China's growing capability to travel further into the ocean.
In mid-December, the country's first aircraft carrier carried out its first live-fire exercise in the Bohai Sea, which involved drills with destroyers and frigates in simulations such as reconnaissance, aircraft interception, sea strikes, and missile defense. It also completed "full-element" training in the East China Sea on Saturday before setting off for the Western Pacific.
With more major warships under construction, an increasing number of effective long-range drills are expected to be carried out by the Chinese navy, adding fresh impetus to the country's capability to better defend its water territories.