Half-hearted reconciliation likely to stir Asia-Pacific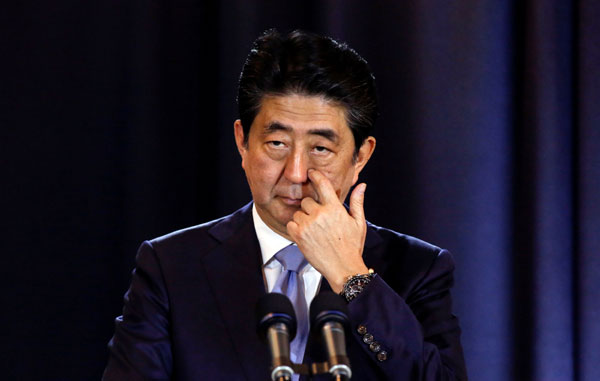 Japanese Prime Minister Shinzo Abe gestures during a press conference in Buenos Aires, Argentina, November 21, 2016. [Photo/Agencies]
Japanese Prime Minister Shinzo Abe said on Monday he would send a message to the world during his visit to Pearl Harbor in Hawaii that Japan will never repeat the atrocities of past wars.
Which, as far as it goes, is a message that can be welcomed by all, especially Japan's neighbors which have been the main victims.
However, as is so often the case with Abe when it comes to this period in his country's imperialistic history, it attempts to hide more than it shows, since atrocities such as the sneak attack on Pearl Harbor were symptoms of the illness rather than the cause.
Abe's visit with US President Barack Obama on Tuesday comes 75 years after Japan's infamous attack propelled the United States into World War II, and is aimed at showing the former enemies are now reconciled. It is believed to be in return for the May visit by Obama to Hiroshima, the city on which the US military dropped the first atomic bomb, when Obama made a speech bemoaning "the agony of war".
On that occasion, Obama stopped short of offering an apology. Likewise, Abe will not apologize for the attack on Pearl Harbor, according to a Japanese government spokesman.
If there is no apology, and Tokyo and Washington are simply staging shows to cement popular support in the two countries for strengthening the US-Japan alliance, how can there be true reconciliation?
And how can there be a message that Japan will not repeat the mistakes of the past when its current leader is unrepentantly trying to bury its wartime past by revising history?
Unlike those of his predecessors that were willing to take an honest look at Japan's wartime wrongs and offer heartfelt apologies for them, Abe has consistently sought to wriggle and squirm away from any inconvenient truths.
He has tried to deny Japan's war of aggression, saying the "definition of invasion is not set in stone". He has dismissed the Tokyo Trials of Japan's war crimes as "no more than exercises in victors' justice".
To expect someone with such distorted historical views to feel remorse over his country's past is unrealistic.
The two countries' willingness to forgive and forget is not as Daniel Kritenbrink, senior director for Asian affairs at the US National Security Council, said at a news briefing, "a powerful demonstration of how the two countries can overcome a very painful history to become the closest of allies and friends".
It is a demonstration of their marriage of convenience. One that is likely to create more turbulence in the Asia-Pacific region as they seek to pursue the point of convergence in their agendas.