Sustainability important to realize poverty reduction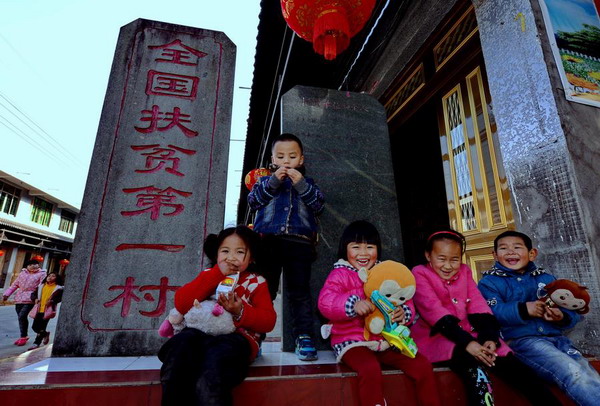 Children of She ethnic group sit in front of a monument that reads "China's No. 1 Poverty Relief Village" at Chixi Village, Panxi town, Fuding city in East China's Fujian province, Feb 14, 2016. The village has shaken off poverty thanks to assistance from Party and government officials at all levels over the past 30 years. [Photo/Xinhua] 
International Day for the Eradication of Poverty on Monday was a reminder that ending poverty in all its forms everywhere by 2030 is an ambitious goal, but it s also an achievable goal.
Marking the day, UN Secretary-General Ban Ki-Moon stressed "we are approaching the end of the first year of implementing the 2030 Agenda for Sustainable Development, a universal vision for peace, prosperity and dignity for all people, achieving this objective is inconceivable without fulfilling the mandate of the first goal ending poverty in all its forms."
Having joined the UN 30 years ago and enjoyed over 20 years working in the Asia-Pacific region, I have watched China grow and develop into the world's second largest economy. This year marks the third year China has also adopted Oct 17 as its National Poverty Reduction Day. There is no doubt that China has made remarkable strides in reducing poverty levels. Once a country with over 942 million living in poverty, it has now reduced this to 55 million. Additionally, with a targeted poverty alleviation strategy in its 13th Five-Year Plan (2016-20) the aim is for poverty to become history in the country by the final year of the plan.
The statistics certainly highlight an impressive achievement but what further intrigues me is what actions have made this possible. Looking back we can see that China has evolved through varied stages of development. As social-economic and environmental contexts have developed, the drivers of poverty have changed, and so have the approaches to addressing it. Broadly speaking, poverty reduction has become increasingly institutionalized, more targeted and multi-dimensional. This means going beyond seeing poverty as merely a lack of income or what is necessary for material well-being – such as food, housing and land – and exploring other essential factors such as access to education, healthcare and inclusiveness in society. At the same time China has needed to address accompanying rapid economic growth, industrialization and urbanization.
Looking towards the future, China's newly devised targeted poverty alleviation strategy has again demonstrated its resilience in tackling poverty issues. Adopted at a time when China is confronted with the urgent need to transform for further economic growth, the strategy has laid out different approaches – ecological conservation, education, social protection and industrial development – that all highlight the importance of sustainability when it comes to reducing poverty. These efforts are also in line with the globally-adopted Sustainable Development Goals, and if the strategy is effectively implemented, it will contribute to realizing job creation, public services provision, sustainable urbanization and natural resources conservation, among other things.
However the challenge still remains to make poverty reduction inclusive, while considering the integration of the SDGs and this is where the UN system can play a vital role in supporting China.
First, the UN can continue offering international perspectives and experiences for China, it also provides a platform, through south-south cooperation, to disseminate China's experience and help other countries with their poverty reduction efforts.
Second, the success of poverty reduction and the broader SDGs agenda will happen at the local level. The UN has been supporting implementation of the Millennium Development Goals locally, and has a vast experience to apply to the SDG era.
Third, the UN can help monitor poverty reduction achievements to support long-term strategies for sustainability of the efforts. Poverty is dynamic and using innovative approaches to help identify and track the poor in a more real-time and real-place manner is vital. The UN has experience globally, and can assist China experimenting with alternative instruments, such as using "Big Data", to complement the traditional household surveys that feed the national database. Moreover, with more and more financial resources being allocated for poverty reduction, the UN can assist with effective implementation, including through assessing the cost-effectiveness of public spending, via setting up an overarching appraisal system.
China's progress towards eradicating poverty is unprecedented. Soon I will start my tenure in China and together with the UN system, I look forward to China developing on a sustainable path.
The author is the designated United Nations resident coordinator in China.