Reform puts trial in court at center of justice system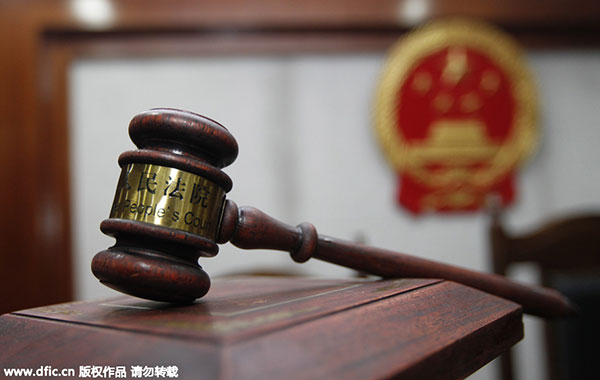 A gavel in a court. [Photo/IC]
The latest guideline on reform of criminal procedure, issued jointly by the national judicial authorities, has the potential to initiate revolutionary changes in the Chinese criminal justice system.
Comprehensive and expansive as it is, the 21-clause document boils down to what is called "criminal procedure reform centered around court trials".
That may not sound "revolutionary" to those who take court proceedings' central role in the justice system for granted. After all, there is no better, more just way than having evidence produced and scrutinized and arguments about innocence or guilt made in courtrooms with all concerned parties present. That is why it is common in modern judicial practice.
It is revolutionary here, because it marks a break, or "rational transition" as it is put in the document, from the decades-old model of criminal procedure centered around investigations by the police and prosecutors.
Under such a regime, presumption of guilt is unavoidable, suspects' rights are easily ignored, and the conclusions of the police to a great extent determine court judgments. And under such a regime police mistakes are difficult to redress.
Meanwhile, the presumption of guilt easily leads to neglect, if not abuse, of a suspect's rights. Forced confessions in turn produce wrong convictions. Almost all misjudgments in criminal litigations exposed over the years were the outcome of problematic police investigations.
Given the habitual presumption of guilt, emphasis on suspect confessions and neglect of material evidence, guilty judgments are usually made before and outside court proceedings. No wonder people tend to believe court trials are often simply going through the motions.
The new guideline is an overdue prescription to remedy both criminal injustice and the judiciary's credibility crisis. It is revolutionary because, unlike past calls and promises, this one is finally targeted at the roots of the problems.
And it does not stop at blanket appeals for presumption of innocence, against torture, forced confession and self-incrimination. Instead, it starts with the exclusion of illicit evidence, via the proposal to establish a special mechanism to verify the legitimacy of an interrogation. It also hints at a separate guideline on evidence collection being forthcoming.
The prescription looks promising thanks to the attention it attaches to checks and balances among public security departments, prosecutors' offices and the courts. But to succeed the reform requires all three to fulfill their obligations.