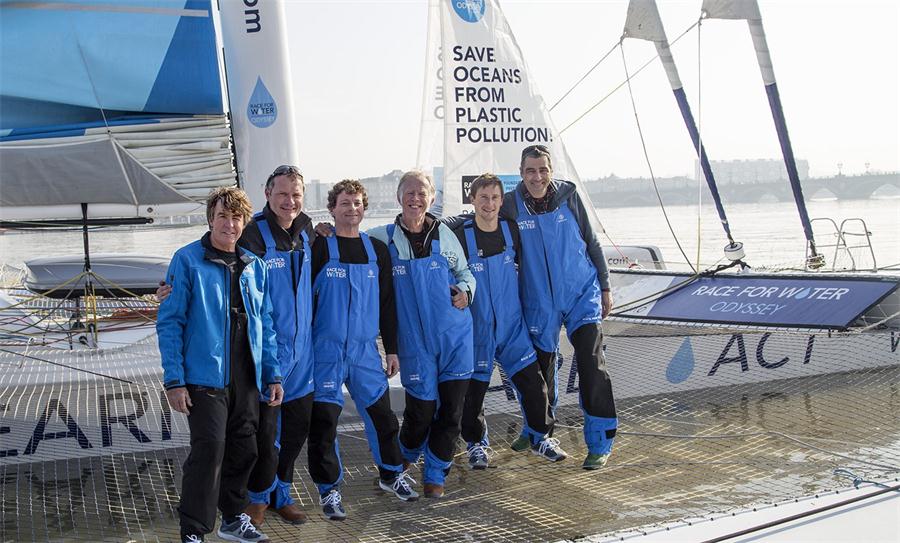 Marco Simeoni (second left) is the president of the foundation, the initiator of the project and the expedition leader. The team is made up by Stève Ravussin (left), a Swiss navigator, co-skipper Claude Thelier (middle),Olivier Rouvillois (middle),Martin Gaveriaux (second right) and media crew Peter Charaf (right). [Photo provided by Race For Water Foundation to chinadaily.com.cn. Race for Water 2015 / Peter Charaf] 
Editor's note: It is estimated that there will be 1kg of plastic for every 3kg of fish in the oceans by 2025 according to one piece with Daily News. Race for Water Odyssey, a global adventure tour launched by Race for Water Foundation, works to bring together the public on this issue by visiting the locations of each garbage patch around the world. China Daily Website spoke to Lucie Gerber, the R4WO's public relations officer who has followed up the whole journey , to know their ocean life around China and the world during the six voyagers' global expedition.
Plastic is everywhere, urgent solution needed
Q: How did Race for Water Odyssey originate?
A: It was a project that we have thought about for a long time. The mission of our foundation is to preserve water. What is the biggest threat right now to the oceans? It's plastic pollution. There are really pressing numbers about millions of tons of plastic floating in the oceans. We thought it was time to try to do something about it. But before doing something about it, we needed to know what was going on. What is happening is that some people imagine that pollution is like continents and that you can actually work on it, which is not the case. It is like a big trash soup, really difficult to map. We know that there are places that these trash vortexes are, but nobody really knows exactly where and how much trash is there. The idea is to go to the five gyres and see what is going on.
Q: What kind of work do you do when you arrive in a city?
A: Our mission has two kinds of stops, the scientific stops where we do analysis, and stops to raise awareness. On these stops, we try to speak about this problem and gather public opinion.
Q: Can you tell us about your Shanghai voyage?
A: It was a nice week in Shanghai, with the help of the Swiss Consulate and Swissnex, many local NGOs and environmental experts participated in our scientific workshop about marine pollution.
Q: What have you learned so far about China's marine environment?
A: Actually, we didn't sample any Chinese shorelines or beaches, our observations of China' s marine environment is restricted to our stay in Shanghai for a small week, the navigation along Chinese coast and our discussion with Shanghai local NGOs. Therefore we do not have specific data about China's ocean circulation, except the fact that during the navigation between Tokyo and Shanghai, the frequency of observed drifting sea debris from the boat was about 1 minute, which is much lower than other countries. In other terms, China coastal concentration seems to be higher. This means China's ocean situation is of serious concern. A new study, Plastic waste inputs from land into the ocean, published in the journal Science in February 2015, estimated that plastic debris washing into the ocean from 192 coastal countries reached somewhere between 4.8 and 12.7 million metric tons in 2010, among them, China is the biggest contributor.
Q: Since ocean trash is an urgent problem that China faces, what can we do to mitigate the issue?
A: As we observed, China already has a lot of people working in the field of waste valorization, up-cycling and recycling, but in contrast to other countries, a lot of workers are part of the informal sector. In my opinion, they need to be structured and regulated by the Chinese government. There are also some technological solutions now available, which could turn plastic waste into energy resources (oil or electricity). We need to scale up these solutions.