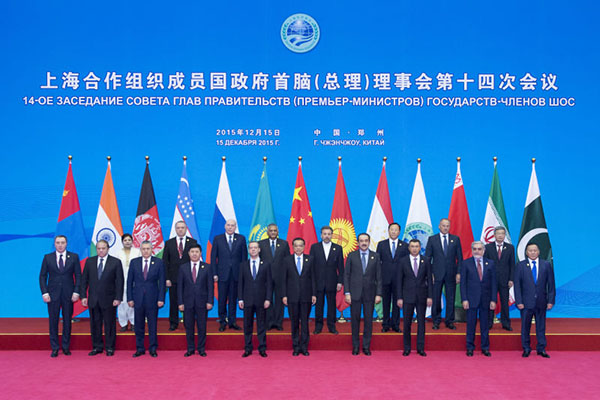 Leaders pose for a group photo at the 14th Shanghai Cooperation Organization (SCO) prime ministers' meeting, in Zhengzhou, capital of central China's Henan Province, Dec 15, 2015. [Photo/Xinhua]
Deepening regional integration and strengthening production capacity cooperation take priority on the agenda of the Shanghai Cooperation Organization members.
The leaders of China, Russia, Kazakhstan, Kyrgyzstan, Tajikistan and Uzbekistan, who were meeting in Zhengzhou in Central China's Henan province, detailed a series of measures to expand multilateral cooperation in fields such as trade, finance, culture, agriculture, transportation, telecommunications and tourism in a statement issued after their meeting on Tuesday.
These are necessary steps to implement the overall development strategy, which was approved during the SCO summit in Russia in July, and pave the way for deepened pragmatic cooperation and economic integration in the region.
The statement also pledged support for the China-proposed Silk Road Economic Belt, an open and mutually beneficial initiative aimed at reviving the ancient Silk Road from China via Central Asia and Russia to Europe, which was put forward by Chinese President Xi Jinping during a visit to Kazakhstan in 2013.
The mutually complementary nature of regional cooperation has given rise to what Chinese Premier Li Keqiang called a situation of equal dependency for the SCO members.
Li suggested the member states cooperate on production capacity, security, connectivity, finance, regional trade, social undertakings and people's well-being.
With SCO members in Central Asia seeking infrastructure renovation and China bountiful in high-quality production capacity, their cooperation in industrial capacity both at the regional and international level will help produce win-win outcomes.
Amid the fragile global recovery and downward pressure on many economies, strengthened cooperation in these areas will contribute to meaningful interaction among SCO members and promote shared and sustainable development. This will in turn lift their multilateral interaction to a new level and enhance their security, stability and common development.
Since its founding in 2001, security and economic cooperation have been highlighted as the two "wheels" of the SCO. Over the years, the members have achieved impressive results in economic, security and anti-terrorism cooperation, enabling the SCO to assume a greater role in safeguarding regional peace and stability.
The new resolve to promote greater regional integration will not only bring real benefits to the economies of its members, but also help improve the SCO's capability to better address the security risks the region is facing today.