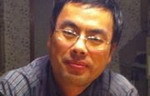 Last month, the most popular Chinese micro blog post was written by movie star Fan Bingbing (or one of her ghostwriters) in which she said that she would draw three lucky winners from among the netizens forwarding her post. These three lucky fans would be given her photo calendars, and she would personally follow them on weibo, China's micro blog. Within days, the post was liked by more than 53,000, forwarded by 364,000 and commented on by 283,000 netizens.
Weibo is very popular in China, because it gives almost everyone a platform to read and write, even when one does not enjoy writing much. Surely, 140 words are not all that much. At the very least one could forward a post with a simple click.
Weibo has become a microcosm of Chinese society. I have been observing what kind of people get read and what kind of posts become viral because, in my obsession with the anthropology of technology, I think it is a good way to check the pulse of Chinese society.
In the Chinese micro-blogosphere, those who are followed by many are called the "Big Vs" (V for verified users). There was a time when the most popular things big Vs wrote was chicken soup for the feeble minds. Kaifu Lee, former executive for Google and Microsoft, coined many fortune-cookie-sized wisdom bits for millions of his followers.
Recently, I noticed that such voices are dying out as celebrities from the show business take the center stage. Almost all the popular micro blogs are those of celebrities in the show business. If this trend continues, my only hope of getting more popular is to star in a movie, say, about an instructional design superhero rescuing panicked professors from dysfunctional online tests. And then, I'll promise the same calendars with photos of mostly my nude back to potential readers to increase my fan base. We'll see what happens.
Celebrities like Fan Bingbing, because of their popularity elsewhere, mount some kind of "bully pulpits" - a term coined by former US president Theodore Roosevelt to refer to the White House as a natural, conspicuous platform to call attention to some civic action. Or, to be more precise, these nice-looking celebrities own their own beauty pulpits, even though such pulpits are not used to make a positive impact on society.