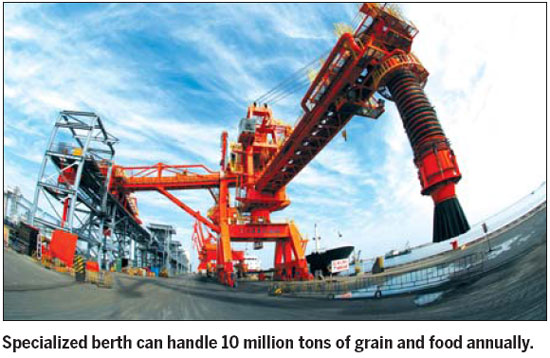 The worldwide economic slowdown and heavy competition among ports have had little impact on Liaoning's booming Port of Dandong, the northernmost seaport of China, according to official statistics.
In the first half of this year, bulk cargo throughput at the port reached 43.86 million tons, a year-on-year increase of more than 29 percent. It also handled 470,000 containers, up 39 percent.
The city government of Dandong has long prioritized the development of the port. And the port has been further emphasized since last year, when the city released a strategy to boost the development of port-related industries.
Located around the Port of Dandong, the city's first port industrial zone was founded in 2006. And in the past six years, it has attracted 30 billion yuan worth of investment from China and abroad in projects related to international trade, manufacturing, logistics, high-tech industries and services.
A part of the zone and a high-tech landmark in Dandong, the 7.65-square-kilometer park for instruments and measurement devices is projected to become a large-scale development area with an annual revenue of 100 billion yuan in the next five to 10 years.
Another industrial park, with an area of 3.2 sq km, specializes in equipment manufacturing.
The largest of all parks in the zone is the 42-sq-km port district, which is home to 127 projects in the fields of port logistics, shipbuilding, steel manufacturing, petrochemicals and food processing, with a combined investment of 14.6 billion yuan. Some 64 projects are already operational.
At the port industry zone, a shining star is the Dandong Shipbuilding Industry Co Ltd.
It signed a cooperation agreement with South Korea's Daewoo Shipbuilding on Aug 22 for a joint shipbuilding project in the zone.
Once it is complete, the project is expected to generate annual revenue of 50 billion yuan. According to projections, it will also attract at least 200 supporting enterprises and provide jobs for more than 50,000 people.
In the field of port logistics, an ore terminal with a total investment of more than 11 billion yuan is under construction in the Port of Dandong.
Another significant project under way is a huge agricultural product processing and logistics facility. Its operations include the processing, storage and trade of grains.
The project is expected to be capable of processing 3.5 million tons of grains a year, with revenue projected to reach 30 billion yuan.
(China Daily 11/07/2012 page18)