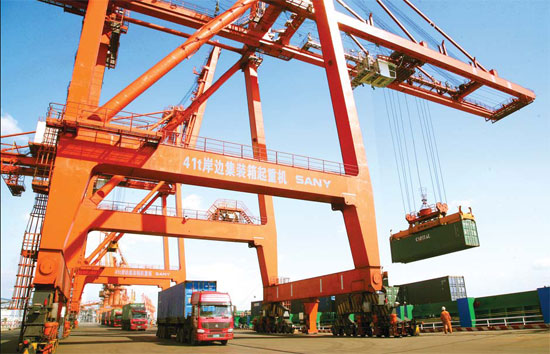 After installing more specialized equipment such as container cranes, reach stackers and packaging machines, the port is expected to handle 1.5 million containers annually in the next few years.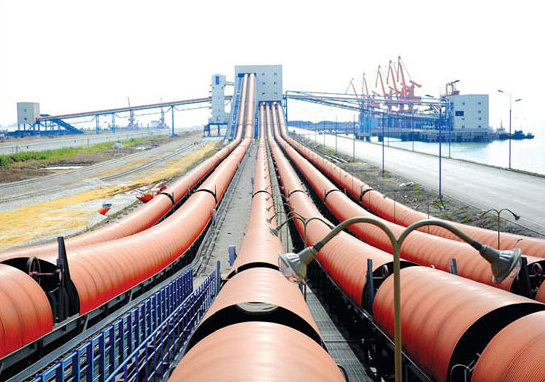 Conveyor system near the terminal, which is projected to accommodate 30 million tons of iron ore each year.
The Liaoning Transport Bureau announced on Oct 30 that construction on the new ore terminal at Dandong Port was approved by the National Development and Reform Commission, which when finished will enable it to handle 200,000-ton ore ships and make it a national-class port.
According to the Dandong city government, preparation for the massive project is under way, with the terminal capable of handling more than 30 million tons of iron ore annually scheduled for operation next year.
Xu Haiyang, a manager at Dandong Port, said the ore terminal will further boost Dandong's comprehensive strength as a deepwater port.
The port serves a hinterland with abundant minerals and complete industries that generate strong demand for ore transport, Xu added.
Dandong Port now has 28 berths that can accommodate ships up to 200,000 tons, but lacks an ore facility that can handle ships of similar size.
With links to 90 ports in 70 countries, the port's throughput has increased more than 30 percent annually over the past decade, with volume growing 17 times from 2002 to 2011.
In the first nine months of this year, Dandong's throughput of bulk cargo reached 68.29 million tons, up 27.2 percent from a year ago. It handled 858,000 containers in the same period, up 60.8 percent year-on-year.
Busiest year ever
"I have worked here for almost 20 years and this year is the busiest," said Zhou Hongkuan, a manager at Dandong Port.
He said since January, 20 to 30 vessels have arrived or departed every day. Shifts have continued day and night even during the Chinese lunar New Year.
"The port's throughput has grown even faster since the second quarter with the operation of the new railway along the northeastern border and the Dandong-Tonghua expressway. We are approaching our target of a 100-million-ton port," he said.
Not resting on those achievements, the port authority invested more than 10 billion yuan over the past two years to build new berths for food, containers, ore and gas.
The port's goal is to have 60 berths and more than 200 million tons of throughput in 2015.
Container transportation is a highlight of Dandong Port. The sector's development has accelerated since 2011 after installation of more specialized equipment such as container cranes, reach stackers and packaging machines.
It now has container liners serving all the major ports in China and many across the world.
The rapid development of Dandong Port is driven by local growth, further opening-up of the northern Yellow Sea region and the increasing strength of manufacturing industries in Northeast China as well as the rapid development of logistics industries.
Dai Yulin, Party chief of Dandong, said in the next few years the city will have a more rapid growth in the logistics industry, covering sea, air and land transportation, as well as storage and distribution.
"We will implement more favorable measures to make Dandong a top choice for logistic enterprises," Dai said.
Experts also note other advantages for the port's future development.
"The northern Yellow Sea region, with favorable natural conditions, is one of the most important areas of the Liaoning coastal economic belt," said Liang Qidong, a researcher at Liaoning Academy of Social Sciences.
"It is the only coastal area in China that has not been largely developed. It also has advantages in low operational costs, large development space and huge hinterland markets."
Wang Min, Party chief of Liaoning province, said he has great expectations for the port's development.
He suggested that "Dandong should focus on the construction of deepwater harbors and large-scale specialized wharfs".
"At the same time, the city should accelerate the development of sea-rail intermodal transport and build a comprehensive network for sea, air and land transportation," Wang said.
Contact the writers at liuce@chinadaily.com.cn

With huge investment in expanding and upgrading facilities, the annual throughput of Dandong Port is expected to break the 100 million ton mark in the next one or two years. Photos provided to China Daily
(China Daily 11/07/2012 page18)