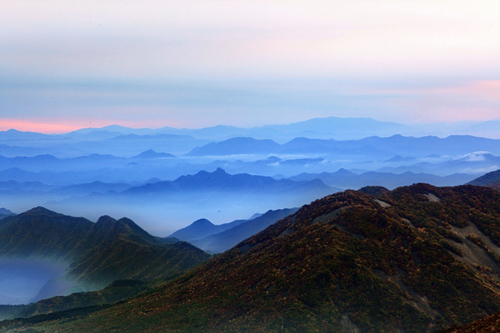 Huabo Mountain is located in the northeast of the Kuandian Manchu autonomous county in Northeast China, and is the watershed of the Yalu River and Taizi River systems. It has an average elevation of 800 meters. The highest peak is Huabo Mountain, which is about 1336 meters above sea level.
Huabo Mountain features two major scenic areas, Hundred Waterfall Gorge and Huabo Mountain, and 69 major attractions. It is known to the world for its unique combination of pine trees, mountain peaks, seas of clouds and springs, and waterfalls.
The Hundred Waterfall Gorge boasts waterfalls, springs, and mountain and stone views. The springs, forming nearly 100 large and small waterfalls and also a large group of ladder falls.
Huabo Mountain Scenic Area offers a wide view from its mountain peak overlooking "four counties and one country." In addition to verdant forests, visitors can enjoy the Quaternary glacial relic, tens of thousands of square meters of stone lakes and stone waterfalls, and alpine meadows alive with blooming flowers. This also is one of the Southern Manchu anti-Japanese base areas, and its ruins still exist.