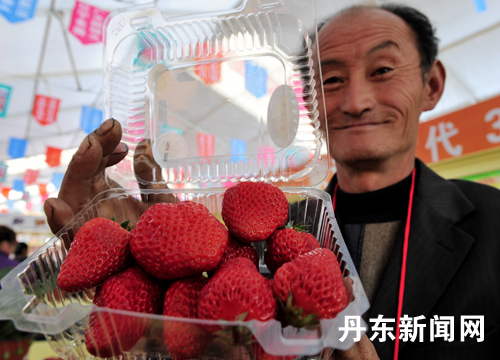 The Sixth China (Dandong Donggang) Strawberry Cultural Festival has provided a marketing platform for farmers. Photo shows Li Kaishuang, a farmer, at the exhibition showcasing his selected strawberries.
The Strawberry Cultural Festival opened ceremoniously on April 24 in Donggang city, the production base of China's quality strawberries. It is an exhibition of high caliber of its kind and a promotion platform for the Chinese strawberry industry. At the opening ceremony, Zhao Huaming, vice-governor of Shenyang province, Zhai Huqu, president of Chinese Academy of Agricultural Sciences (CAAS), and Han Huipeng, president of the graduate school of CAAS, granted a series of medals, such as "County with leading crop farming business," "China's No.1 strawberry county," and "Liaoning province strawberry production base" to the city's first group of pilot counties.
Donggang, the earliest strawberry production base in the country, has planted strawberries for nearly 100 years. By the end of 2010, Donggang had cultivated about 150,000 mu strawberries, with an annual output of 300,000 tons. The output values amounted to 1.05 billion yuan. The city's acreage of strawberries accounted for 7.9% of the national total, and 72% of the province's total. Its output reached 15% of the national total and 80% of the province's total. Nearly 100,000 rural households, 2,000 agents and 100 companies, with 120,000 laborers involved, are engaged in planting, processing and trading strawberries. Meanwhile, Donggang is also the biggest strawberry export base in the country, annually processing 40,000 tons and exporting 30,000 tons, with an export value of 30 million U.S. dollars. Its export volumes and strawberry product export take up more than 20% of the national total. Donggang strawberries have been listed by Ministry of Agriculture as one of top 100 name brands in China. It enjoyed great fame as strawberry plantation region.
The exhibition hall of the sixth China (Dandong Donggang) Strawberry Cultural Festival is lined with assorted strawberry varieties from Donggang.