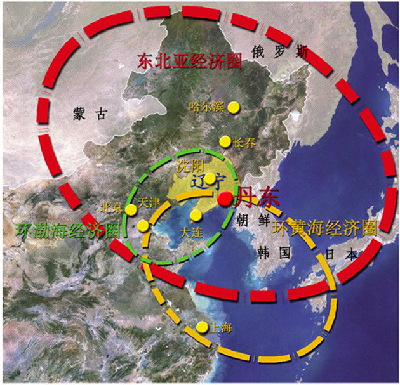 The Liaoning Coastal Economic Belt of Northeast China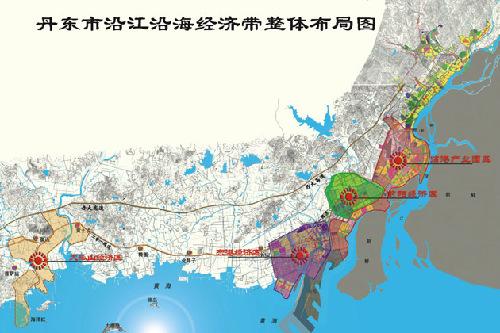 The Dandong Coastal Economic Belt
The Liaoning Coastal Economic Belt of Northeast China contains six prefecture-level cities on the Bohai and Yellow seas -- Dalian, Dandong, Jinzhou, Yingkou, Panjin and Huludao – on a 56,500-square-kilometer area with a 2,920-kilometer coastline. It had around 18 million people at the end of 2008, a GDP of 695 billion yuan, and a per capita GDP of 38,605 yuan.
Premier Wen Jiabao chaired a meeting of the State Council on July 1, 2009, where he approved the Liaoning Coastal Economic Belt development plan, and the coastal economic belt was included in a national, strategic plan.
Significance
The economic belt is important for the revitalization of the Northeast's old industrial base and China's opening up to Northeast Asia. It is also of strategic importance for national development overall: first, for improving the economy of China's coastal areas; second, for implementing the nation's regional development strategy; and third, for increased economic cooperation in Northeast Asia.
Strategic orientation
Liaoning Coastal Economic Belt will set a foothold in Liaoning, rely on the Bohai Rim, serve Northeast China, cater for Northeast Asia, develop itself into an important platform for the opening up of Northeast China, an important international shipping center in Northeast Asia, a near-port industrial belt with international competitiveness and a livable place characterized by beautiful ecological environment and affluent people, and become a new economic growth pole of Chinese coastal areas.
Development advantages
The economic belt region has a development foundation and many advantages. Some of the advantages are obvious: its important position on the Bohai Rim and near the Northeast Asia Economic Circle, and as an important window on Northeast China and for Eurasian access to the Pacific Ocean.
Its natural resources are plentiful: about 2,000 square kilometers of low-yield or abandoned salt flats, or saline and alkaline land and desolate beaches; and more than 1,000 square kilometers of tidal areas. It has large magnesium, boron, molybdenum, oil, natural gas and other reserves. It has a coastline suitable for ports of about 1000 km, more than 80 percent of it yet to be developed. There is more than 1,300 square kilometers of nature reserves at Shuangtaizi, Hekou, the Dandong Yalu River estuary wetland, and other areas.
It has solid industrial strength in shipbuilding, machine tools, diesel locomotives, and equipment manufacturing, all of them competitive internationally. Its petrochemical, metallurgical, and other raw material industries play a vital role in China, with its petroleum, electric power and other energy industries operating on a large scale. The city has major national enterprises and many high-caliber engineering technicians and skilled industrial workers.
The traffic system is well developed and its ports have more than 300 berths and contacts with ports in more than 160 countries and regions. The Shenyang-Shanhaiguan, Harbin-Dalian and other trunk railways give the eonomic belt has a sound transport network, while the Shenyang-Dalian, Shenyang-Shanhaiguan, Dandong-Dalian, and Panjin-Haicheng-Yingkou expressways all run through the region. The Dalian, Dandong and Jinzhou airports have 87 domestic routes and 46 international routes.
Development principle
The economic belt will stick to its plans for coordinated and balanced development; and positive interaction and make full use of its advantages, while paying attention to and environmental protection and sustained development.
Spatial layout
It will raise Dalian's position, assist the Dalian-Yingkou-Panjin axis, strengthen the Bohai Sea coast from Panjin to Jingzhou and Huludao, and the coast and islands of the Yellow Sea, from Dalian to Dandong, while developing the "one core, one axis and two wings" framework. It will consider the current development rate, capacity, and potential of the area's resources and environment, adjust its measures to those conditions, make full use of its advantages, and build some key areas and industrial clusters clearly, with proper functional orientation and division of labor.
Industrial development
The economic belt will perfect its industrial structure, improve advanced equipment manufacturing and raw materials industries to give them an advantage, expand its high-tech, modern service, and modern agriculture sectors, use IT to improve its competitive industries and product quality, and gradually form a modern industrial system dominated by advanced manufacturing.
Main targets
The layout and industrial structure will be further improved by 2012, while the GDP and revenues will surpass the average level of China's other coastal areas and per capita GDP will exceed 50,000 yuan. Innovation is expected to improve significantly and science and technology's role in economic growth will be increased. The Dalian Northeast Asian International Shipping Center is expected to begin taking shape. The urbanization rate will reach 65 percent and the incomes of urban and rural residents will grow significantly, along with the social security system and basic public services. The effects of energy conservation and emissions reductions will be felt more, and the ecology and environment will improve. Energy consumption per unit of GDP and environmental quality will be close to the advanced level and the needs of a well-off society will be mostly met overall.
A modern industrial system dominated by advanced manufacturing will be in place by 2020, and technological innovation in some key fields will be close to international standards. The Dalian Northeast Asian International Shipping Center will increase its support role. Urbanization will reach 70 percent, while incomes of urban and rural people will be double the 2012 level. Public services will be more equal. Energy consumption per unit of GDP and environmental quality will reach advanced levels, and there will be harmonious relations between human and nature, and the region will take the lead in achieving a well-off society.
Planning emphases
First of all, the economic belt will make full uuse of its sea access and window on Northeast China and take par in economic cooperation in Northeast Asia and other parts of the world to increase Northeast China's opening. Second, it will integrate the resources of port areas and increase shipping capacity, logistics and other services. Third, it will perfect the industrial structure, eliminate excess capacity, and form a modern industrial system dominated by advanced manufacturing. Fourth, it will balance urban and rural development, increase modern agriculture, and revitalize its rural economy. Fifth, it will improve the traffic situation, energy, conservation, and the information infrastructure, do more in the area of resource conservation, environmental protection, and ecological improvements, and increase regional support and sustainable development. Sixth, it will improve social understanding and deal with the problems and concerns of the common people. Seventh, it will increase reforms in key areas and innovations in all systems.