Fengcheng, one of Dandong's county-level cities, is located in the eastern part of the Liaodong Peninsula, covering a 5,513-sq-km area with a total population of 590,000. It is one of the Liaodong Peninsula's 16 open counties (cities) in the coastal economic area and has 59 types of minerals. Its boron reserves account for 58 percent of China's total. Fengcheng has long been known for its gold reserves, which account for more than 60 percent of total reserves in the Dandong area.
Fengcheng has a vast water system with more than 270 rivers, with a per capita surface-water area that is twice China's overall figure, and 5.7 times that of Liaoning Province. Fengcheng is a key water conservation area for Liaoning Province and a key ecological protection area for urban parts of southern and central Liaoning. Its forests cover 6.16 million mu (410, 666 hectares) and account for 74.5 percent of Dandong's total area.
Other area products include white wine, tobacco, construction materials, boron chemicals, coal, and gold. Fengcheng is also rich in tourism resources and has a national scenic resort on Fenghuang Mountain.
Industrial parks
The Fengcheng Modern Industrial Park is located in the southwestern part of Fengcheng and contains the Erlong Industrial Park (the central industrial park with six minerals industry parks) that sit astride the Shengyang-Dandong Expressway.
The Erlong Industrial Park was established in 2001, on 13.07 sq km of land. By the end of 2008, it had 71 enterprises. When the industrial park is completed, it is expected to contain another 50. Recently, the industrial park began specializing in manufacturing, and, in the future, will focus on equipment manufacturing.
Website: www.lnfc.gov.cn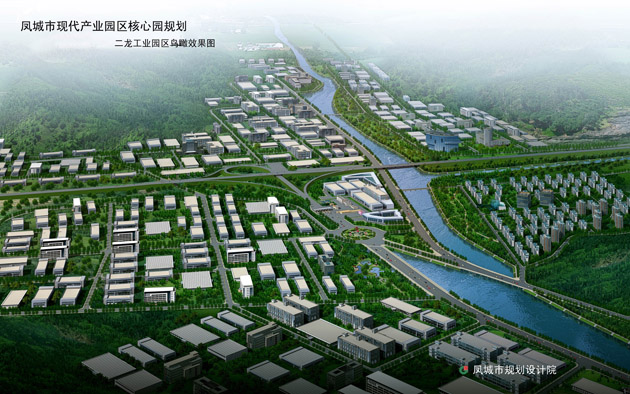 Blueprint of Fengcheng Modern Industrial Park