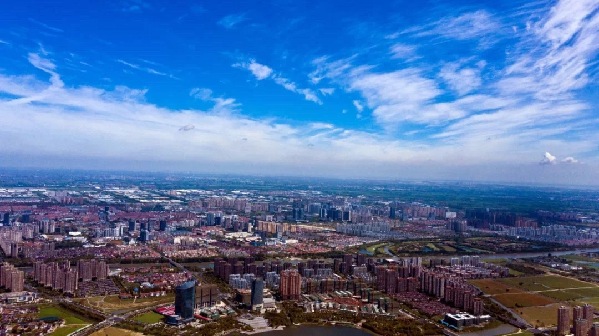 An aerial view of Taicang in Jiangsu province [Photo/WeChat ID: taicangdaily]
Taicang, a county-level city in Jiangsu province, will take targeted measures to further optimize its business environment, Taicang Daily reported on Nov 20.
The city recently rolled out 23 new measures which will make it easier for market entities to apply for licenses, register property, pay taxes, and acquire loans, among other things.
The company registration process has been simplified to just three steps, and the examination and approval period has been reduced to a single work day at the longest.
Other improvements include paperless applications, electronic licenses, and all-in-one services.
All government bureaus are encouraged to share statistics with each other and build an integrated service platform combing on-site and online government services.
Taicang ranked third on the list of the best county-level cities in China, according to a survey published in Forbes China on Dec 7, 2018.
Thriving ports, fast-growing enterprises, a robust transportation network, strong relations with German companies, an attractive talent policy, and a good living environment have all played a part in Taicang's success.