A tourist group from Italy's Macerata province recently visited Taicang, Jiangsu province to experience the daily life of the city and to enjoy its unique culture.
During the tour, they admired a guqin (seven-stringed Chinese zither) performance and tried to play it under the guidance of masters, and strolled around the city's ancient towns, including Shaxi Ancient Town and Liuhe Ancient Town, taking in the traditional Chinese architecture.
They also visited Wanfeng Village, Taicang's modern agriculture demonstration site, to marvel at some Taiji sword and fan dance performances, and to experience the Chinese-style grape picking.
Fabio, who works in tourism in Italy, spoke highly of his tour around Taicang.
"The city of Taicang has impressed me very much. There are many similarities between Taicang and Macerata, both of which are small cities with abundant greenery. There are also many farms in Macerata, just like in Wanfeng Village," said Fabio.
Taicang forged friendly relations with Macerata in 2016 and over the past two years, the two cities have made many exchanges in the economy, culture, social management and urban construction.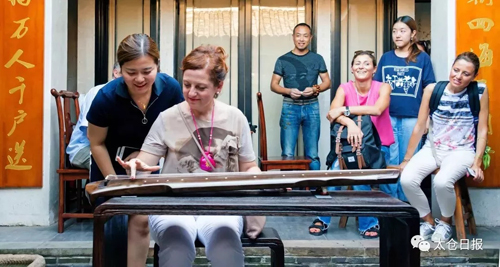 A woman from the tourist group from Italy's Macerata province learns to play guqin under the guidance of a master during their recent visit in Taicang, Jiangsu province. [Photo/WeChat account: taicangdaily]