The opening ceremony of the seventh culture show of the county-level city Taicang, where the city's historical folk arts, customs and artifacts will be exhibited or performed, is scheduled to take place in the Tianjing Lake, Science and Education New Town, on May 6.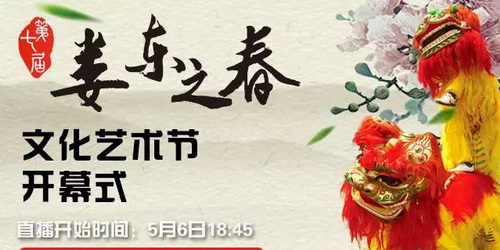 The lions made for lion dancing in Chinese traditions are striking in the poster designed for Taicang's seventh culture and art show which will last for half a year since its opening. [Photo from WeChat: taicangdaily]
Conventionally, local residents will give their street performances on the stage, such as riotous folk dances (dragon, lion, clam, spear dances), modeling rowing boats in a lake, shouldering floral baskets and "
Wushu
(martial arts)", and the majority of arts in their performance are listed into national, provincial and municipal cultural heritage.
The string and bamboo flute that they are going to play is popular in southern Yangtze River area and has been selected into national intangible cultural heritage.
The "Gundeng (literally 'rolling lanterns')" is one of Jiangsu province's important intangible cultural heritage.
And the folk song (sung in fields or after farm work) in Shuangfeng town, as well as the regional Kun opera are heritage authorized by Suzhou city.
Also, on that day, artisans will give live show of other national, provincial and municipal intangible cultural heritage incorporating 14 folk art crafts, such as techniques to make Chinese famous Taicang dried meat floss, rotten oil, dragon and lion artifacts, kites, candies of pear syrup and nine traditional Chinese medicine therapies for diseases in throat, eyes, burns and so forth.
Other activities to celebrate this art and culture festival include landscape painting exhibition, dragon boat competition in Jincang Lake, and will be notified subsequently.