In a recent development, Taicang business Jinshuangfeng Group and Shenzhen Dazhi WuJiang Technology Co Ltd. (Taicang branch) cooperated to launch a joint venture in Shuangfeng town focused on researching and developing unmanned aerial vehicles (UAV).
UAVs, known in common parlance as a drone, are unmanned aircrafts that are remotely controlled by computer or remote control.
In recent years, drones have been deployed to complete a wide range of professional functions such as aerial photography, monitoring, search and rescue, surveying, mapping, inspection, and security.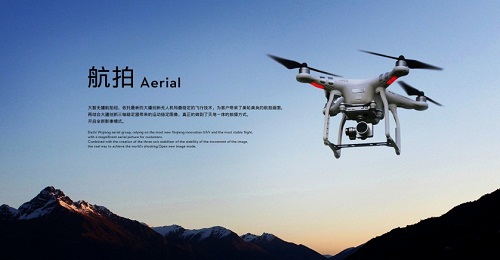 Shenzhen Dazhi WuJiang Technology Co Ltd's places this image on its website to demonstrate one of the many major products and services. [Photo from djichn.com]
Shenzhen Dazhi WuJiang Technology Co Ltd is China's leading UAV developer and producer. It has gained a strong reputation for building UAV products and applications across a range of sectors including patrolling, search and rescue, plant protection, fire safety, mapping woods, photovoltaic systems, power system and training. The company finished building China's first unmanned professional store in Shenzhen and has since opened more stores in the country's cities.
According to the signed document, Shuangfeng town will provide an important facility for the company as both an office and daily center of operation. The cooperation will help to expand the applications of UAV and focus on safety, environmental concerns, fuel, and river issues that currently face Shuangfeng town. These initiatives are part of Taicang's focus on becoming a smart city.
Furthermore, the two parties intend to develop a joint venture and become a hub for R&D, sales, operations, maintenance, training, and solutions of UAVs in East China.