A joint fire drill and emergency rescue exercise was held at Taicang Port on Aug 18, to test and improve coordination capabilities, Taicang Daily reported.
It was a large-scale and cross-regional drill, lasting around 30 minutes from 10 am, protecting against the leak of a diesel fuel tank. Four public security forces, from Suzhou, Taicang, Zhangjiagang and Changshu, participated in the drill, with another 11 Taicang government agencies. Some 180 personnel took part, along with 43 vehicles and four unmanned helicopters.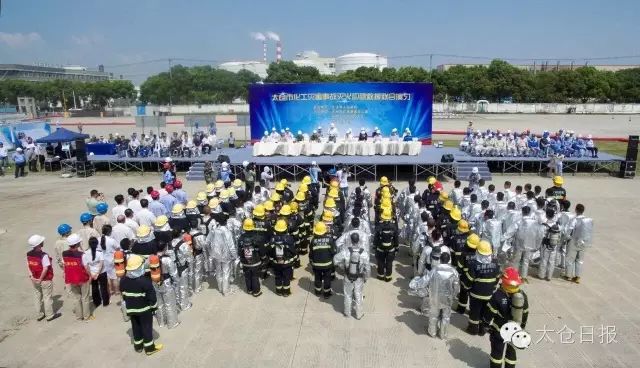 Rescuers prepare for the fire drill on Aug 18. [Photo/Taicang Daily]
Within a minute of the fire alarm sounding, personnel evacuation was almost completed, with well-equipped rescuers saving a trapped worker soon after.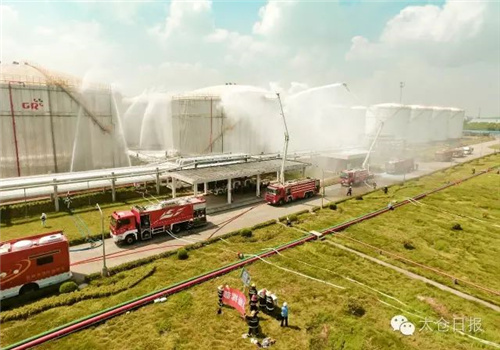 Fire trunks put out a fire during the drill on Aug 18. [Photo/Taicang Daily]
After two minutes, 10 Taicang fire trucks had arrived, other agencies, including water and power suppliers, medical teams and safety supervisors, reached the accident site one by one. At 10:04, all detection and preparation work was finished, and fire fighters concentrated on putting out the fire.
An additional siren signaled an explosion, and all the rescuers hid in the safe areas. A second scout and assessment of the fire after the blast was carried out, followed by a drill command center being established to give out subsequent instructions.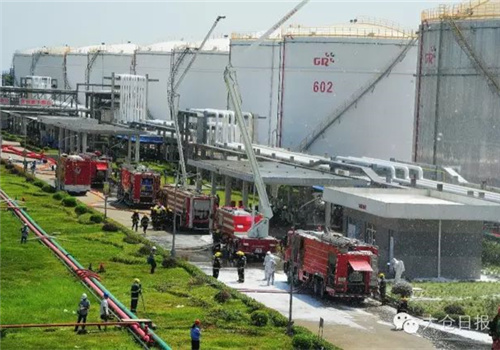 Foam and rainwater finally controls the fire during the drill on Aug 18. [Photo/Taicang Daily]
After 15 minutes, reinforcements from Suzhou, Changshu and Zhangjiagang arrived at the site, and followed the orders of the command center.
Finally, the fire was controlled with foam and rainwater. And after an assessment that there was no possibility of another explosion or fire the drill was completed.