Reading enthusiasts in Taicang gathered at the 11th Taicang Reading Festival on Saturday to celebrate World Book Day.
To kick off the festival, young children chanted Mu Lan Ci, a folk poem from the Northern Dynasties (386-581), at the opening gala.
Kuntai Hanfu Society, a local organization promoting traditional costumes of the Han ethnicity, drew inspiration from classic poetry and staged a recital and dance.
Reading volumes of classic works has enabled members of the society to learn the rites and ceremonies practiced in ancient China to know more about the culture of clothing in the past, said Zhang Yu, a member of the society.
Another highlight of the gala was a vocal performance by nine dock workers who chanted a famous work by Song Dynasty poet Su Shi. The performers were from an art group comprised of workers of the Wanfang International Terminal Co in Taicang.
Several performances celebrated the founding of the Communist Party of China and the Long March of the Chinese Workers' and Peasants' Red Army.
A Cyber Culture Festival was held in tandem, where eight cafeterias were granted the use of the "Library Inside" logo on the day which indicate that they are a part of the city library network comprising of selected downtown venues.
Over the course of the weekend, a book exchange activity, car trunk book show and children's book reading event took place, among other activities.
By Liu Sitong and edited by Jacob Hooson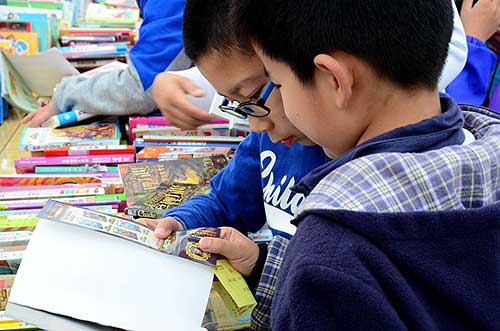 Children get stuck into their favorite books at the 11th Taicang Reading Festival which kicked off on April 23 in Taicang city, Jiangsu province. [Photo from Taicangdaily.com]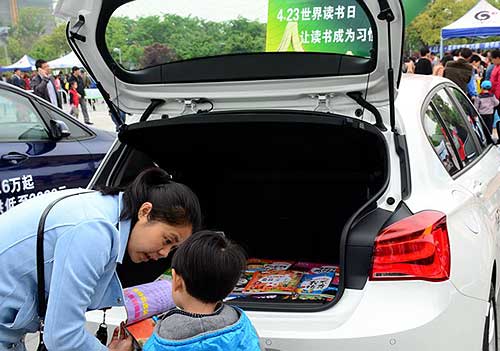 A woman shows a book to a child during the festival's car trunk book show. [Photo from Taicangdaily.com]