A set of drones worth 500,000 yuan ($78,800) were recently put into use by the State Grid in Taicang, Jiangsu province to improve efficiency and reduce safety risks.
The use of the drones allows for a transmission tower to be inspected within 10 minutes. Inspections were previously carried out by workers with binoculars, a task which took around 30 minutes per transmission tower. The use of drones allow for electricity to remain switched on while a tower is inspected, improving cost and efficiency.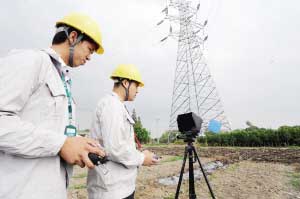 Two workers in uniform and helmets conduct examinations on a transmission tower with the help of drones. Courtesy of Taicang Daily.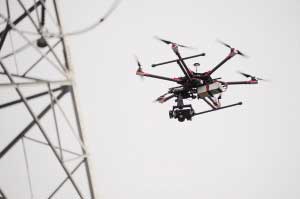 A drone transmits images of power transmission equipment to ground staff for examination. A camera is attached to the drone to carry out the mission. Courtesy of Taicang Daily.