Chinese table tennis players won all four titles at the team finals of the International Table Tennis Federation Junior Circuit leg in Taicang city, Jiangsu province, on June 25.
The ITTF Junior Circuit Taicang is an ITTF Golden Series tournament. It is also known as the China Junior & Cadet Open. The four finals on the team event itinerary, which Chinese teams won, were the Junior Boys, Junior Girls, Cadet Boys and Cadet Girls events.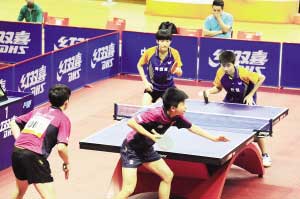 Four table tennis players compete at the International Table Tennis Federation Junior Circuit (Taicang) in Taicang city, Jiangsu province on June 24. [Photo by Ji Haixin/Taicang Daily]
China's Cao Wei, Guo Wen and Ji Jiale beat the Taiwan A team 3:0 in the junior boys team final on June 25. While Liu Ming, Wang Yidi and Zhang Rui led the fight for the junior girls team championship.
China's A team won gold in the cadet boys team final, with South Korea finishing runners-up. And in the cadet girls team final, the gold and the silver medals went to China's A and B teams respectively.
The team from China is part of the national team and was formed in the second half of 2014, according to the team coach Zhong Jinyong. Zhong said that the players were picked based on their positions on the points standings within China's national team.
He also said that the players well exhibited their serve and return of serve skills and it was impressive to see the players sharpen their skills through each game.
The Taicang youth circuit will run until June 28. The subsequent three days of the circuit will contain individual events.