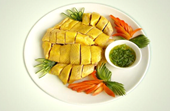 2012-06-08
Boiled-sliced Hetian Chicken is the most famous delicacy in the county of Changting in Longyan. Residents of Changting cook Hetian chicken in several different waysincluding frying, boiling, steaming and simmering. Boiled-sliced Hetian chicken with a ginger sauce is especially popular in the west of Fujian province.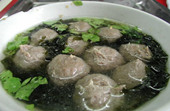 2012-06-08
Xiayang Beef Balls, originated in Xingning, Guangdong province, about three hundred years ago. In present-day Longyan there are more than thirty beef ball restaurants and shops whose clients hail from cities such as Fuzhou, Xiamen and Shenzhen.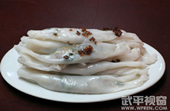 2012-06-08
Steamed Sticky Rice, also referred to as "Boji Sticky Rice" or "Longchuang Sticky Rice", is a traditional Hakka dish which is a regular feature ofHakka family meals. To make Steamed Sticky Rice, first pour rice milk into a winnowing pan or sieve, steam for five minutes until it turns into a thin sheet of rice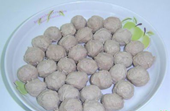 2012-06-08
They are crispy and are quite different from meat balls in China's east coastal areas. Meixian, a county in Guangdong province, is known for its Bingcun Meat Balls, which are described as "extremely crispy", and Yongding, a county of Longyan city, Fujian province, is known for beef tendon meatballs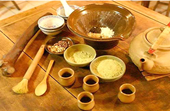 2012-06-08
Lei Cha Lei Cha, or ground tea, is a traditional Hakka tea-based beverage.
2012-06-08
Grass carp is used to make Ninghua raw fish slices. The fish must weigh roughly 1.25 kilograms to ensure the meat is fresh and tender.