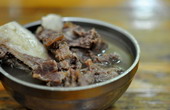 2012-06-08
Niuhua is a traditional local dish in Fuzhou. For a really delicious dish of Niuhua, you need fresh beef, then remove the fat, then slice it and mince the slices.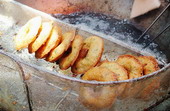 2012-06-08
Xiasu originated in Chaoshan, Guangdong province, and is quite popular in Fuzhou, Fujian province in present-day as a delicacy for breakfast.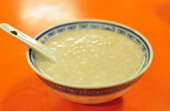 2012-06-08
Originating in Quanzhou, Peanut Soup is a very popular snack in Fujian province. A bowl of peanut soup is a tradition for birthdays, weddings and festivals.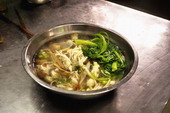 2012-06-08
Laohua is a traditional Fuzhou street food. Literally, "Lao" means getting the noodles out of the boiling water. "Hua" is a type of rice noodle native to Putian city, Fujian province.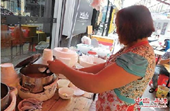 2012-06-08
Guobianhu is a famous Fuzhou traditional snack, consisting of a bowl of soup mixed with various ingredients and topped with crispy, burnt rice.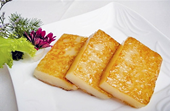 2012-06-08
Niangao, steamed rice cake, and fagao, steamed sponge cake, are traditional desserts eaten around Chinese New Year .