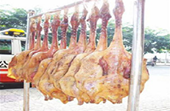 2012-06-08
Residents of the city of Zhangping traditionally prepare wind-dried ducks every winter. They first remove the birds' feathers, then gut them and then flatten them by inserting bamboo branches in their bellies. Next, they coat the ducks with ground pepper, salt, and other seasoning according to taste, and then hang them

2012-06-08
Ai Fruit, also known as Sweet Green Rice Ball or Qingming Fruit, is made of glutinous rice with aromatic Ai – Jersey Cudweed or gnaphalium affine - which has been boiled in water and rubbed to eliminate its bitter taste. Ai Fruit has been a local delicacy for more than one thousand years and is often mixed with minced meat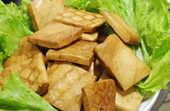 2012-06-08
Changting dried beancurd has a long history, dating back to the Ming Dynasty (1368-1644). Made of high-quality beans with more than 10 kinds of spices and herbs, Changting dried beancurd has a translucent brown color and an agreeable salty taste with some sweetness. It sells well at home and abroad.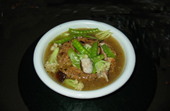 2012-06-08
Yang Yu is a traditional delicacy at wedding banquets and birthday parties in Longyan County. The dish is made of minced streaky pork, dried fish, or shrimps, fried peanuts, scallions, mushrooms and winter bamboo shoots. First mix the ingredients, then fry and steam with salt and other seasoning, according to taste.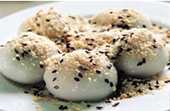 2012-06-08
Ciba, a type of sticky rice cake, is a traditional and popular Hakka snack,and is often served during traditional festivals in rural areas of Longyan. Ciba are made of glutinous rice which has been soaked in water, steamed in a wooden pot, grounded.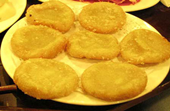 2012-06-08
Lamp Cake is the favorite fried snack of people in the west of Fujian province and its name derives from its appearance which is similar to a type of flat lamp in ancient China. To make lamp cakes, first soak soy beans in cool water for about two hours, then ground them and addsalt and chopped scallions.