President Xi's ideas and suggestions about BRICS
July 7, 2017
Informal meeting of BRICS leaders
12th G20 summit in Hamburg, Germany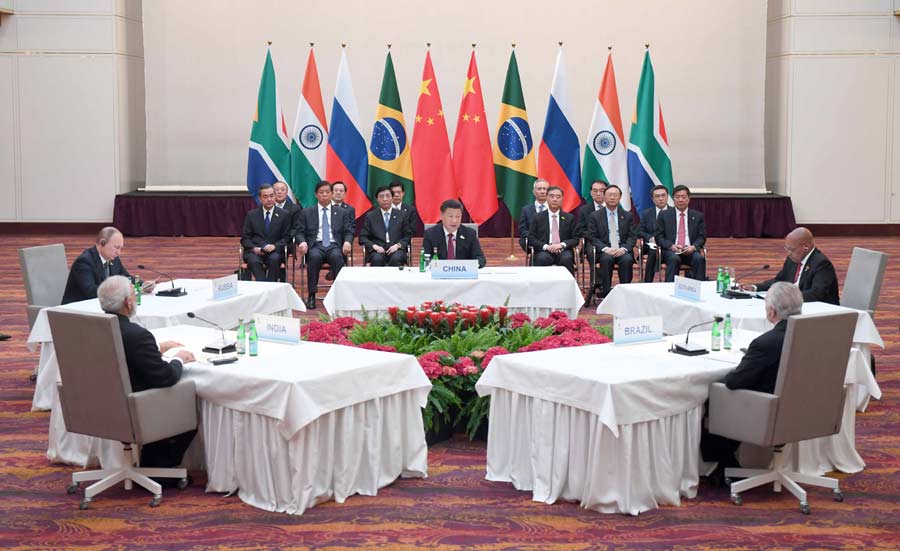 President Xi Jinping presides over an informal leaders' meeting of Brazil, Russia, India, China and South Africa, ahead of a Group of 20 (G20) summit in Hamburg, Germany, July 7, 2017. [Photo/Xinhua]
Earlier in July, President Xi said at the G20 Hamburg summit that there are currently positive signs for the world's economy, with a promising future for the development of BRICS countries, and at the same time, there are also challenges ahead for the BRICS members.
He urged the BRICS members to unswervingly build an open world economy, champion multilateralism and promote common development, while calling on them to push for peaceful settlement of regional conflicts and disputes.
Saying that preparations for the BRICS Summit in Xiamen are going smoothly, Xi added that he expected to make joint efforts with the other BRICS members to achieve fruitful outcomes, deepen BRICS cooperation, offer new solutions to improve global governance and contribute to global economic growth.