China issues commemorative stamps for BRICS Summit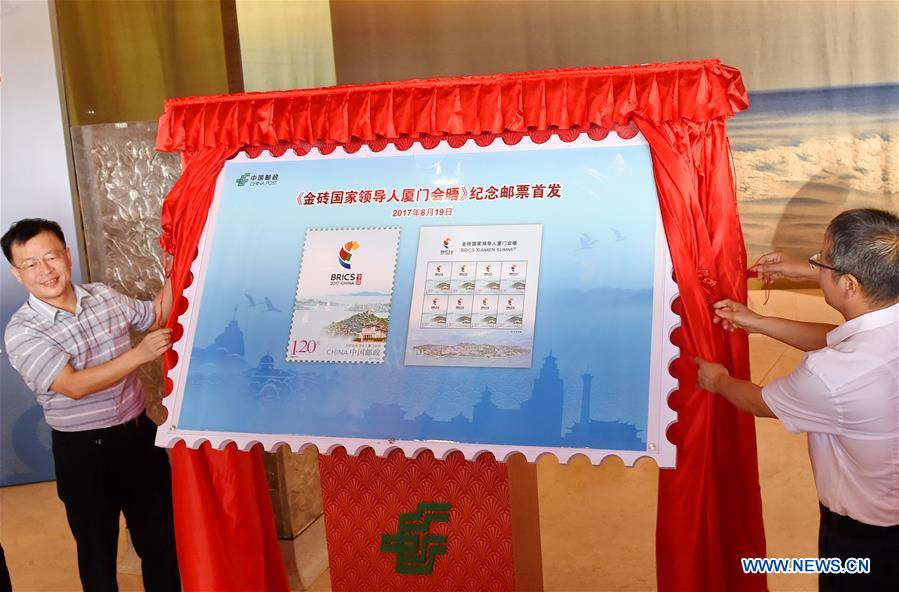 Honored guests unveil stamps issued by China Post commemorating the BRICS Summit in Xiamen, East China's Fujian province, Aug 19, 2017. China Post issued a stamp on Saturday to commemorate the BRICS Summit in Xiamen. The stamp bears logo of the summit as well as the letters "BRICS" and "2017 China". It also shows the scenic Gulangyu island, which was included into the UNESCO list last month, as well as other iconic sites of Xiamen like Xiamen University. [Photo/Xinhua]
XIAMEN - China Post issued a stamp on Saturday to commemorate the BRICS Summit in Xiamen of East China's Fujian province.
The stamp bears logo of the summit as well as the letters "BRICS" and "2017 China". It also shows the scenic Gulangyu island, which was included into the UNESCO list last month, as well as other iconic sites of Xiamen like Xiamen University.
"It shows the features of Xiamen," said Zhang Zhijun with the Xiamen branch of China Post. "With the sea we would like to imply that the summit is a new starting point for the countries to sail into a bright future."
Philatelist can buy eight-stamp sheets or individual stamps. The small sheet is made of silk, with a panorama picture of Gulangyu island by a local photographer Zhu Qingfu.
Price of one stamp is 1.2 yuan (about 18 cents).
The leaders of Brazil, Russia, India, China and South Africa will meet in Xiamen in early September for the 9th BRICS Summit.
China previously has also issued stamps for the G20 Hangzhou Summit and the Belt and Road Forum for International Cooperation.