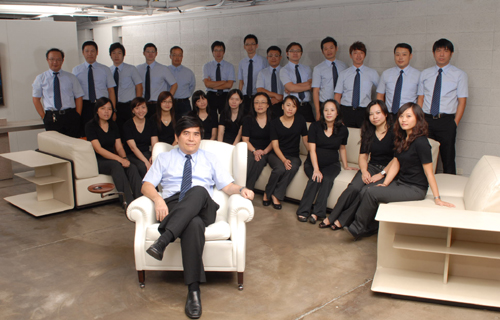 James K.S. Tu's team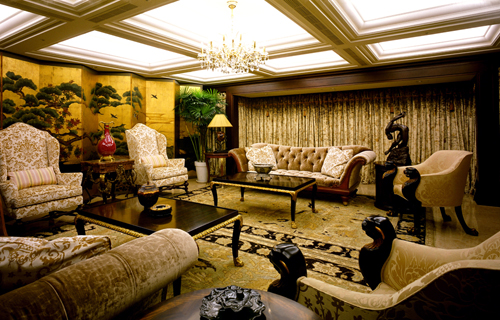 One of James K.S. Tu's works
James K.S. Tu, the president of Audi International Interior Design, gained the title "Taiwan's Luxury House King" for his design work on the most luxurious houses in Taipei.
Representative work includes Hungsheng Dibao, Yangzhe, The Star of Xinyi, Guomei Xinyi Garden, all in Taipei, and the Boyuan Golf Villa, in Shanghai.
While achieving success, Tu has also paid attention to overall development of the industry and says he hopes to improve the standard of living for more people. Recently, in an exclusive interview at China Daily's Beijing headquarters, he shared his unique ideas on interior design and his experience. Here, we present a part of the interview, with more details to be introduced in Chinese Business Leaders, a large record of the global leaders in Chinese business, due out in October 2013.
Q: Design calls for creation. So, where does your inspiration come from, and what's your main style?
A: Anyone who knows me is aware that I am so crazy about buying and reading books that they just pile up in our offices. When I'm asked questions like yours, I always advise designers, especially young ones, to read more. It's only by reading a range of books, such as those on space aesthetics, that you can improve and survive in the increasingly competitive interior design business.
When I design a house, I don't stick to a certain style, but rather, make compromises often. That's because what I work on is homes, not public buildings and the owner's characteristics, preferences and life background need to be respected and incorporated in the design. Our company never says no to any style.
Q: What's the most important factor in interior design? And what are your goals in the future?
A: I always try to create a professional team that is an industry leader and expert in enhancing people's life quality. I know it's difficult to achieve, but I try my best.
Once, a very successful Taiwanese customer told me, "I found it easy to get rich, but so difficult to look noble. I hope your designs can help fix that." I was deeply moved by his desire to allow his descendants to live in elaborate, decorated surroundings so that they could grow up with taste.
On another occasion, where I had a display of my luxury house designs, while researching art at Taiwan Normal University, a female student told me, "Your designs are so luxurious and out of reach for common people who may have no chance to enter them."
I was shocked. But I was suddenly aware of the possibility that I could enhance people's lives without over-expensive materials or construction methods. That is what I want to do in the future.
Q: What trend do you see in interior design for luxurious houses?
A: I believe that the world shares nice stuff from all civilizations and that people are much more open-minded than before. You can decorate a house in China in classic European style, or apply a zen style to an American home. The only problem is how to mix them well.
Owners now like bigger luxury houses and are increasingly picky in furnishing them. So, the problems we may confront in the future are how to integrate, in the owner's preferred way, all the furniture, decorations, and artwork in a larger space.
Q: As a pioneer in the Chinese design industry, what do you think about plagiarism?
A: I always warn young designers not to copy other people's work. As a designer, the greatest sense of achievement comes from a customer's satisfied expression when they see your brainchild. Otherwise, you won't be a happy designer. I always say it's a good job if you're interested and talented enough to come up with new ideas.
Q: Talented people play a key role in interior design. So, what do you value most in a designer?
A: We see temperament as the most precious thing. A good designer will express his or her personality and emotions in his or her work. One disturbing, but prevalent, phenomenon in the industry is that some designers like to start their own business or hop to another company shortly after working in one company, because they think they've learned enough. Most of my employees, on the other hand, have worked many years for me and I think I've done a good job by setting an example as a designer, so my employees deem working here meaningful.
Many years ago, for example, when I was busy designing for Taipei's luxurious Dibao community, one organization named Taiwan Cancer Friends New Life Association asked me to design a place where depressed patients with terminal cancer could gather for non-medical treatment and support each other. The association was made up professors and volunteer workers, and insisted on hiring the best designer, in spite of their limited funds. I was deeply moved by their feelings and, although I was very busy and might have risked incurring a loss, including profits, I accepted the job instantly, as a way to make a small contribution.
We racked our brains trying to work out the most cost-effective design and finally got it in a fairly short period. We had a strong sense of accomplishment when we went to the site and I told my designers that a real professional team should keep a low profile.
Let me give you another example. During the reconstruction work on Taiwan's "Institute of Inspection", a key heritage renovation project, I insisted on restoring the architectural beauty and I spoke with many times to do the work perfectly, and I did that not in pursuit of money or fame.
By working with me, my employees get a better understanding of their boss and the way we deal with problems.
Q: What's your position on your own company?
A: I can tell you with confidence that we are professionals. I mean no offence, but it's unprofessional when some designers try to talk their customers into spending more money. We try to make our work worth every penny of it. And, as I said just now, we're not arrogant and don't limit our business to the rich. That's our unique feature.