'Family' Help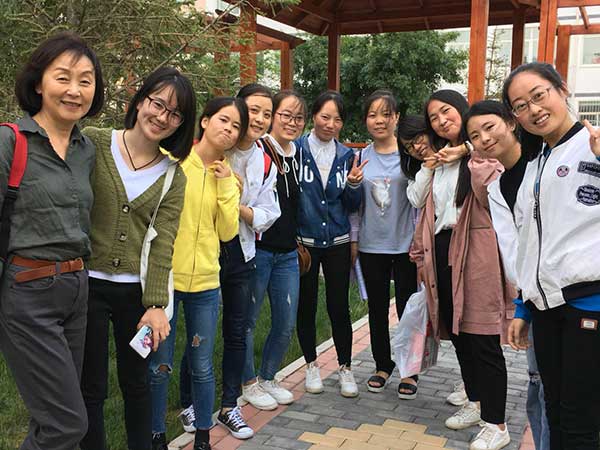 Tien with some of rural girls she has helped financially.[Photo provided to China Daily]
Tien Ching founded Educating Girls of Rural China in the belief that educating women is the key to a better society. Xing Wen reports.
Studying abroad was a long-standing dream of Ma Feng, but it seemed unattainable to a girl born in a remote village in Yuzhong county, Northwest China's Gansu province.
However, in 2008, after taking her college entrance exam, Ma was recommended to the organization Educating Girls of Rural China by her teacher and received 5,000 yuan ($760) annually from the organization for the next four years, enabling her to attend college and get a degree.
In the belief that educating women is the key to creating a better society, Chinese-Canadian Tien Ching founded EGRC in 2005, to help impoverished girls from western China gain higher education.
Generally, EGRC provides grants for students' living expenses. Tien holds that guaranteeing the basic necessities for the students enables them to fully enjoy university life.
"If they rush between classes and part-time jobs to make money to pay for their living expenses, they will be outsiders to the colorful life available on campus as they will not have any time left to join the student union or participate in clubs. Even worse, they might be distracted from their studies," says 65-year-old Tien.
After graduating from the China Women's University in Beijing in 2012, Ma worked at a private equity fund in Shanghai for five years, before applying for a loan from EGRC to fulfill her dream of overseas study by undertaking a postgraduate program in finance and investment management at the University of Liverpool in the United Kingdom in 2016.
Ma described EGRC as "a warm family" and Tien "the head of the family" who tries to utilize all the resources she has.
Tien guided Ma to participate in various activities, which helped her "broaden the horizon and become clear about her future".