Deqing county sets a high standard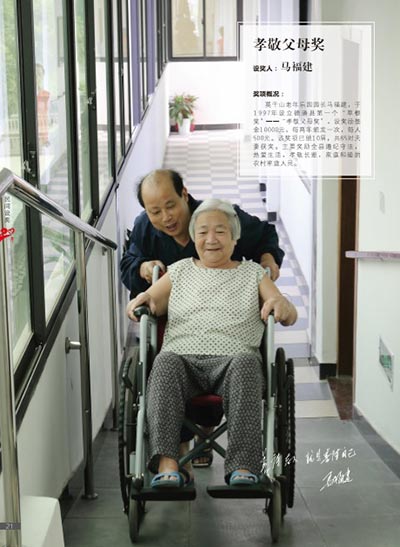 Ma Fujian donated 10,000 yuan ($ 1,530) to set the awards for those who respect and well take care of their parents, inspiring more followers in Deqing county in Zhejiang province. [Photo provided to China Daily]
In the past 20 years, Deqing county in East China's Zhejiang province has seen 55 villagers use their own money to set awards for role models.
A forum jointly held by Xinhua News Agency and the Deqing government gathered scholars to discuss the phenomenon — which is rarely seen in the rest of China — in Beijing on Sept 17.
The first such award was instituted in 1997 by seafood dealer Ma Fujian, who donated 10,000 yuan ($1,530) to honor those who respect and take care of their parents.
The Filial Piety Awards have been presented every two years, with every winner being awarded 500 yuan.
Ma says that he was inspired to launch the award after he heard about family conflicts caused by adult children's unwillingness to support elderly parents back then.
"I have no right to criticize them, but I hoped to use the awards to encourage people to take good care of their parents. Filial piety is a traditional virtue for Chinese, which should be passed down to the next generation," says Ma.
The awards were a positive influence in the country, inspiring many people over the two decades.
Wan Junren, the dean of School of Humanities of Tsinghua University, gives a thumb-up to the people in Deqing, saying that such a trend should be publicized.
Ge Chenhong, a professor with Renmin University of China, says citizens can be influenced to do good deeds, which make the awards powerful and influential.