Having fun with science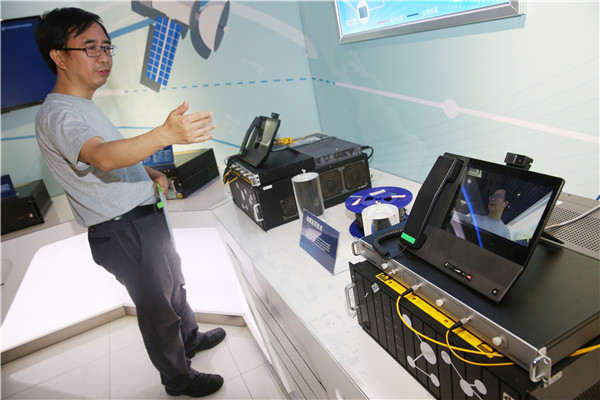 Pan Jianwei shows the products of quantum communication technology in Shanghai. [Photo provided to China Daily]
Star scientist Pan Jianwei finds not only purpose but also peace and happiness, exploring the mind-twisting mysteries of quantum physics. Yu Fei and Xu Haitao report.
Albert Einstein may have thought quantum entanglement kind of "spooky", but the world's first quantum satellite, launched by China last year, has proved that the phenomenon of particles remaining connected so that actions performed on one affect the others, still exists at a distance of over 1,200 kilometers.
And Pan Jianwei, the satellite's lead scientist, now has a bigger goal: to test quantum entanglement between the Earth and the moon at a distance over 300,000 kilometers.
Pan is already a science legend.
When his co-authored article about the first quantum teleportation was selected by academic journal Nature as one of the 21 classic papers for physics over the past century, he was only 29 years old.
When he was appointed a professor of the University of Science and Technology of China, he was only 31.
When he was elected an academician of the Chinese Academy of Sciences, he was only 41-the youngest academician at that time. When he won first prize in the National Natural Science awards, China's highest science awards, he was just 45.
Phenomena such as quantum superposition and quantum entanglement are still not fully understood, but Pan is shining a light into the weird and wonderful world of quantum effects.